Fifty-five thousand Colas employees worldwide focused on a single safety topic the last week of June: addictions.
Colas Safety Awareness Week 2018 brought to attention the many forms of addiction, including alcohol, drugs and medicines, and even cell phones/mobile devices.
Did you know?
Combining alcohol with cannabis (marijuana) multiplies your risk of an accident by 24 times?
The stopping distance on a dry road at 30 miles per hour of a sober driver is 85 feet, but after only two drinks the stopping distance increases to 108 feet?
Writing a text message while driving multiplies the risk of an accident by 23 times?
You may learn more about these serious addictions by reading the attachments.
Colas Safety Awareness Week 2018 – Alcohol Addiction
Colas Safety Awareness Week 2018 – Drugs Addiction
Colas Safety Awareness Week 2018 – Cellphone Addiction
At the Delta Companies Inc., members of the senior management team visit each crew/facility during Colas Safety Awareness Week to share the common message and address specific issues. Delta's team included President Zach Green, Plants & Equipment Manager Jerry Farnham, Human Resources Manager Phil Heimbecker, EHS Manager Bruce Menke, EHS Administrative Assistant Micki Horrell, and Business Development Manager Don Rosenbarger.
Monday, June 25
The site of this year's first visit was the Heartland Materials Quarry in Jackson, Missouri. Since, we arrived early on that Monday morning, Quarry Manager Bill Emmendorfer invited us to join the crew's Safety Meeting to begin the day. The meeting was led by Operator George Hawthorne, included topics of concern such as wet roadways, slippery ladders, and high walls. Regional Manager Steve Peterson showed a Colas-provided video and led the discussion related to addictions. Micki Horrell tried to train the crew on the concept of "spirit fingers," but to no avail.
The Corporate Office was next. We joined in the Safety Meeting there, as well. Micki led this meeting with an emphasis on cell phone addiction. Sharing that the average user checks his/her cell phone 110 times each day. This lessens attention to your surroundings, an enormous threat not only to your personal safety, but to those around you.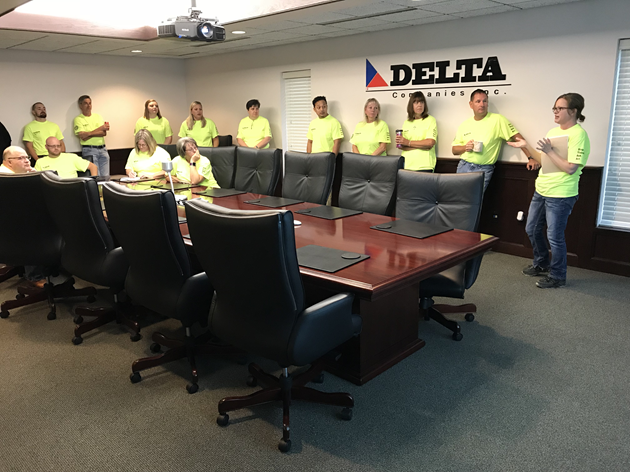 We next visited the Missouri Regional Office. A large homemade "safety" cookie was shared (courtesy of Regional Controller Sarah Weadon) in addition to the safety messages. Ken Lambert, with ASA Asphalt, shared an important yet difficult-to-hear safety message: each of us must safeguard our attitude. We are responsible for our own attitude, no one else!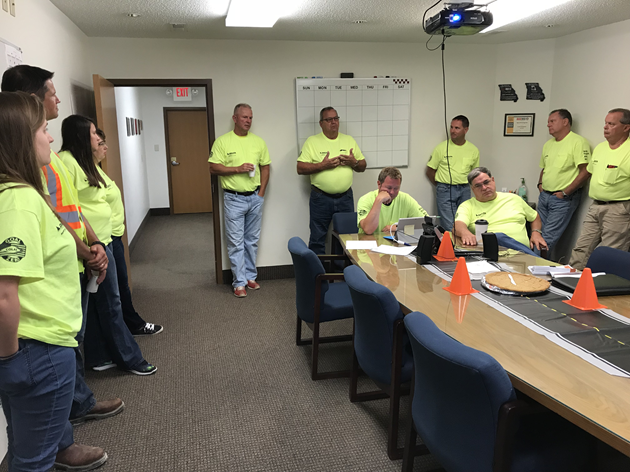 The Cape Girardeau HMA Plant was the next group on the day's agenda. Plant Manager Amos Taylor and his crew wanted to be sure their photo was taken beneath the Colas 6S Plant Certification – Bronze Level sign. They are very proud of their facility, and should be!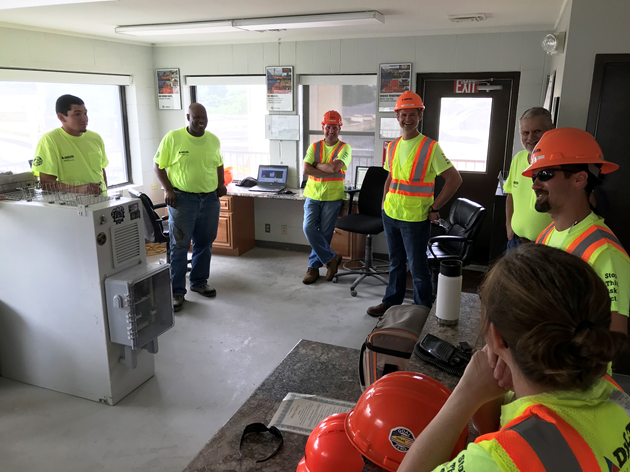 We then visited the Colas 6S Gold Level Shop with Shop Manager Tony Shafer and crew. (Tony likes to have the shop referred to that way!) Quality Control Manager Daryl Masingale, Missouri Quality Control Manager Shannon Sinn, and the Missouri Quality Control team crew joined in the safety conversation. The meeting was halted momentarily while Mechanic Gary McIntyre removed a wooden pallet from the area to eliminate a tripping hazard. He certainly exercised the saying: "See something. Say something."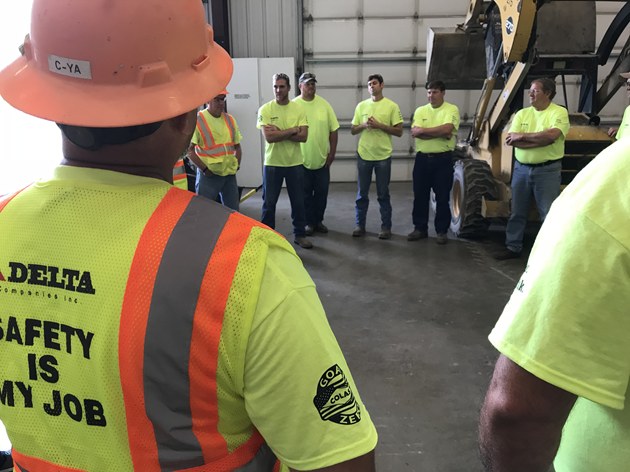 A hearty lunch was enjoyed during the visit to the SEMO Quarry thanks to Quarry Manager Terry Everly and Foreman Jake Sullivan. We also enjoyed a safe "Hot Works" demonstration by Ricardo Berkbigler and Justin Collins. (Ricardo proclaimed that Justin was such a good welder that he could repair a broken heart.)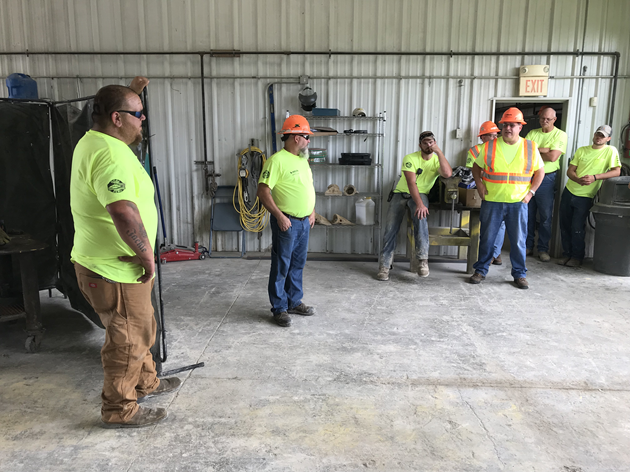 After a short drive down to New Madrid, Missouri, we watched the Colas-provided video and had a good discussion regarding addictions with the crew at our Heartland Asphalt Materials Terminal. Terminal Manager Kevin Faulkner and the crew were presented with the Colas USA Safety Vanguard 2.0 Award for 2017. That makes seven years in a row!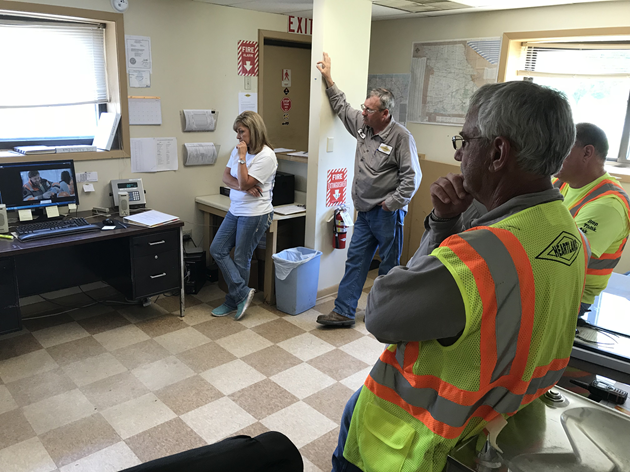 Tuesday, June 26
On Tuesday morning, we met with Joe Colbert and Derrick Schatte's Missouri construction crews and Aaron Anderson's crew at the portable HMA Plant in Hayti, Missouri. We heard stories from Human Resources Manager Phil Heimbecker and former Delta Safety Steering Team member Penny Compas about how people with alcohol issues had personally impacted their lives.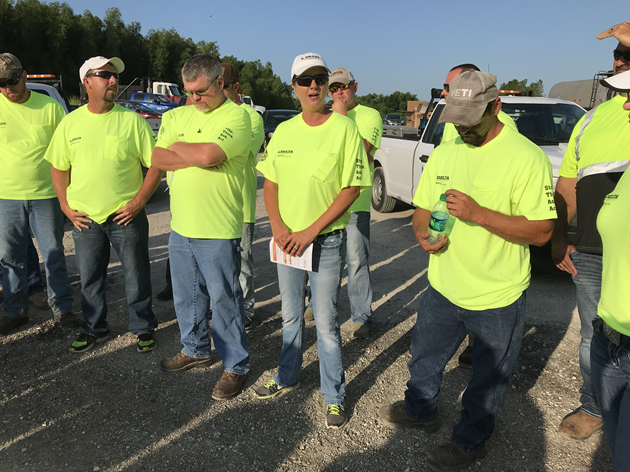 We then drove through an intense rain storm to the Southern Illinois Stone Company quarry in Goreville, Illinois. Following a safety quiz regarding alcohol addiction, we enjoyed lunch with the crew. But the crew had something to share with us. Quarry Manager Rodney Lingle introduced Kevin Gibson and Jesse Terbrak, who gave a very thorough demonstration of the proper procedure for "Hot Work," such as welding. While at the facility, Delta President Zach Green had the pleasure of issuing safety coins to recent hires Jason Jenkins, Jordan Gearing, and Deanna Morris. He reminded the crew here, as he did at each of our visits, that our safety coin contains two messages – on one side it states "Safety / Our Way of Life" and on the other side it displays "The people you work for are waiting for you at home."
Wednesday, June 27
Wednesday morning found us with the crews of ASA Asphalt in Advance, Missouri, including supervisors Chuck Nenninger, Kenny Carlton, and Jason Fowler. The safety message was the same as at the other facilities; however, the delivery was exceptional. Construction Manager Brandon Machen added his own personal flair to the delivery by installing a large screen TV in the rear of his vehicle and using a wireless remote speaker. (Popcorn not included, but he did bring doughnuts!)
We then traveled to Spring Park in Searcy, Arkansas to meet with the crews working in the Searcy and Clinton areas, including supervisors Chris Allen, Clint Clark, and Shane Moody. Regional Manager John Bennett welcomed approximately 60 employees to the event and then discussed the various addictions. Plants and Quarry Manager Artie Cousins shared a personal story regarding tobacco addiction. Construction Manager Brad Marotti shocked the crowd by "telling on himself," saying he spent a lot of time on his cell phone. (Actually, it came as no surprise to anyone.) He is currently using an app called "Moment" to help him curb his appetite. The app is free and tracks the number of times you pick up your cell phone and how much screen time you use on a daily basis.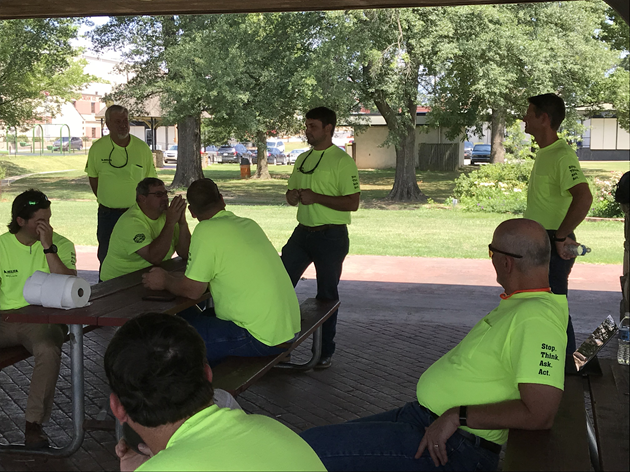 Thursday, June 28
On Thursday morning, Regional Manager Steve Peterson and Construction Manager Brandon Machen met with our construction crews in Illinois, including Chad Phillips, Illinois Quality Control Manager Jason Davis, and HMA Plant Crew Leader Benny Klebba at the HMA Plant in Mt. Vernon, Illinois.
The senior management team traveled once again to Arkansas, this time to Reynolds Park in Paragould to meet with the rest of the Delta Asphalt of Arkansas group. This included the crews of Don Brumley (Luxora HMA Plant), Andy West (Paragould HMA Plant), and the construction crews of David Chastain, Sid Binkley, and Wade Murray. EHS Manager Bruce Menke described the relationship between "leading indicators" and "lagging indicators." As leading indicators increase in quantity and quality, lagging indicators decrease. Leading indicators are pro-active safety activities, such as Safety Meetings, New Hire orientations, SHIELDS, SOPs, and inspections. Lagging indicators are historical data, including Recordable Injuries, Lost Time Injuries, Lost Time Days, etc.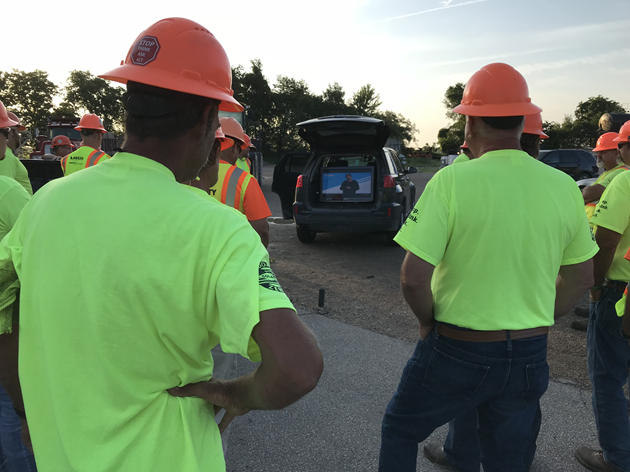 Friday, June 29
On Friday, we drove to our Sand and Gravel facility in Dexter, Missouri. We joined in the crew's very active Safety Meeting led by new hire Kole Whitlock and Site Supervisor Mike Triplett. Operator Bill Hood was Delta's first Safety Guardian, dating back to 2012. His "congratulations" banner still hangs on the wall. After taking the traditional photo, the crew had a little something extra for us – the "Safety Spirit" cheer – "We've got spirit, yes we do. We've got spirit, how about you?" (It is a not to be missed video, hope you caught it!)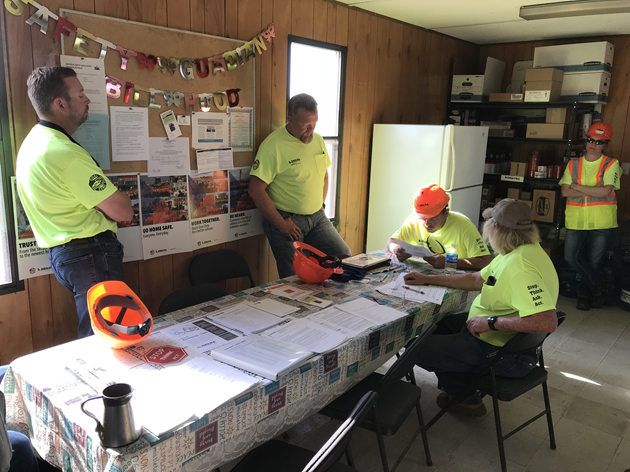 Our last visit of the week was to the Williamsville Quarry, just outside Poplar Bluff, Missouri. There were no "safety spirit" cheers here; however, the safety conversation was certainly spirited with a lot of input from the crew. Quarry Foreman Jeremy Boshell conducted a training session on the "Hot Work Permit" process. Regional Manager Steve Peterson demonstrated in a clear manner the impact of just two glasses of alcohol on a person's field of vision – from 180 degrees to only 60 degrees!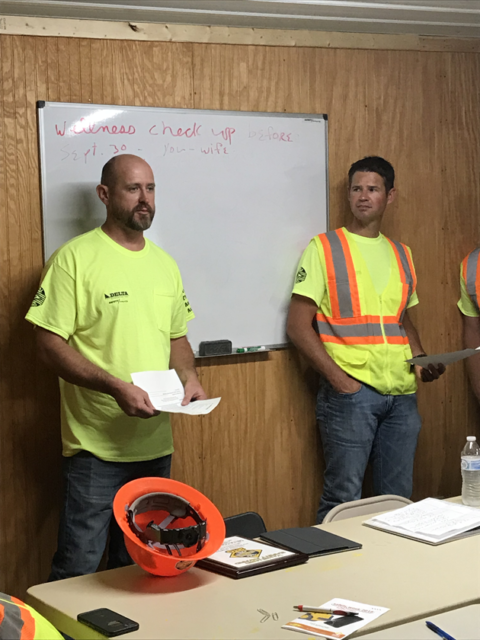 Employee Assistance Program
The employees of Colas USA are reminded that Employee Assistance Programs (EPAs) have been found to be highly effective resources for addressing addictions. EAP programs encourage and support addiction treatment and recovery through confidential assessments, short-term counseling, and resource referrals. Help is within reach. Please contact REACH at www.reach-eap.com or (800) 950-3434.
We wish to thank all the managers, supervisors, and employees for participating in the week's activities.
We recognize that Colas Safety Awareness Week is only one week out of the year and that National Safety Month is only one month out of the year. That's OK! However, we know that here at the Delta Companies, every month is safety month, every week is safety week, and every day is safety day!
Because safety is our way of life.
Below are photos taken during Colas Safety Awareness Week at each facility.
SEMO Quarry in Cape Girardeau, MO.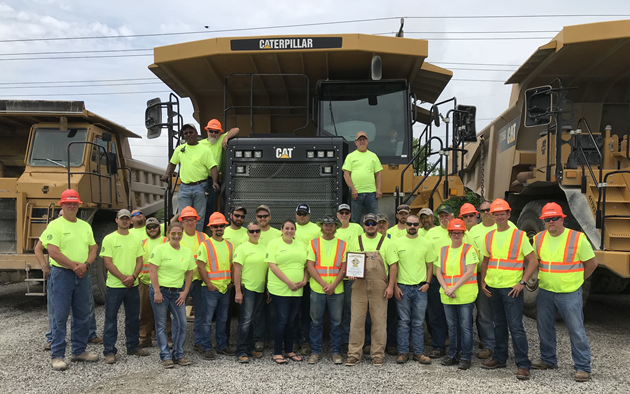 Portable HMA Plant in Hayti, MO.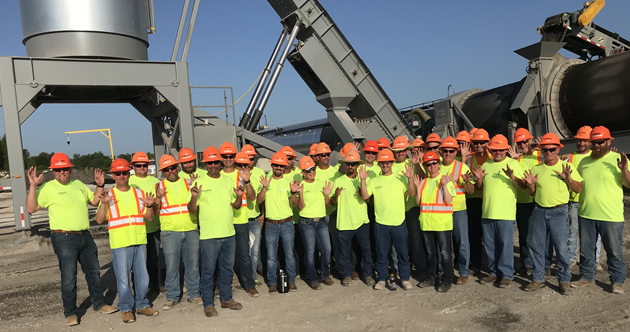 HMA Plant in Mt. Vernon, IL.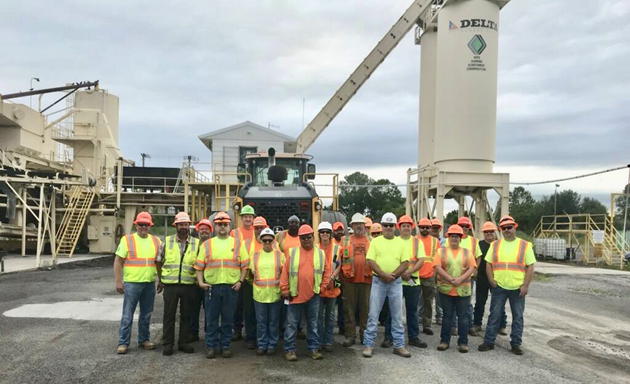 Missouri Shop in Cape Girardeau, MO.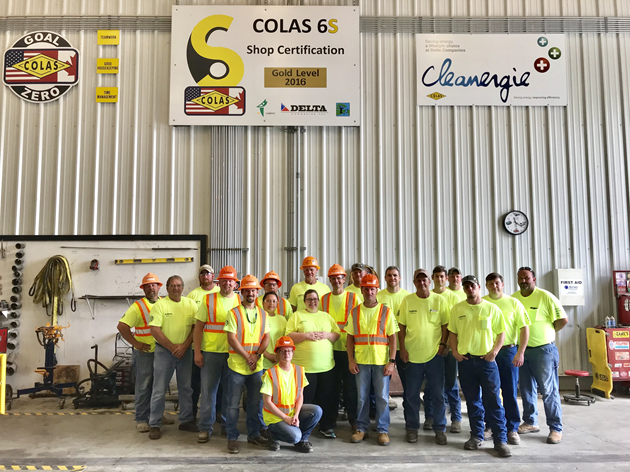 Regional Office in Cape Girardeau, MO.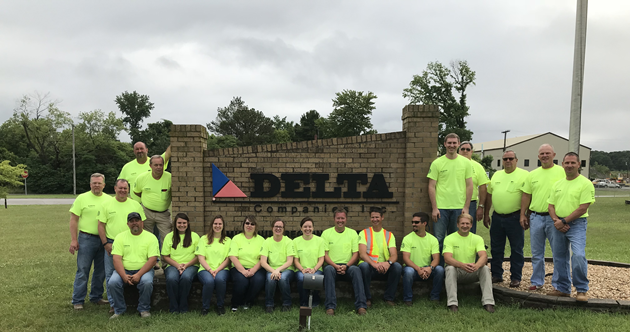 Heartland Asphalt Materials Terminal in New Madrid, MO.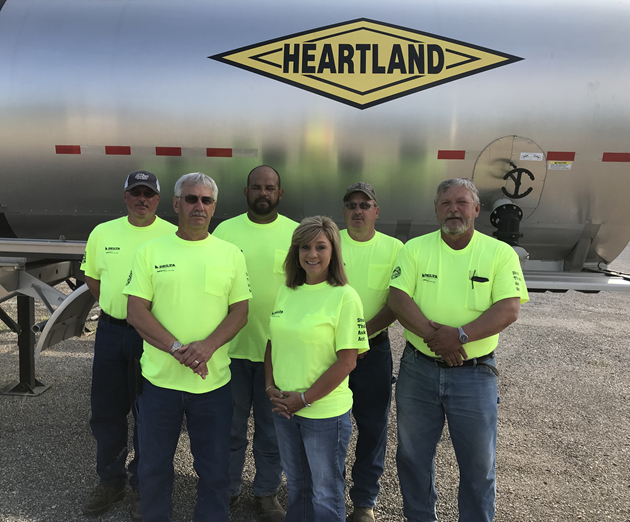 HMA Plant in Cape Girardeau, MO.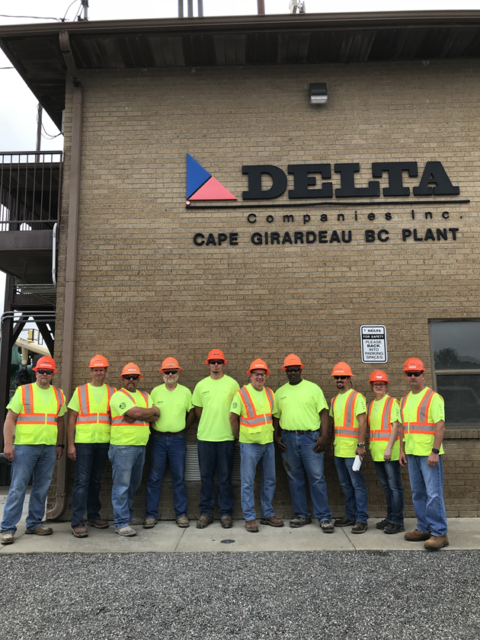 Williamsville Quarry near Poplar Bluff, MO.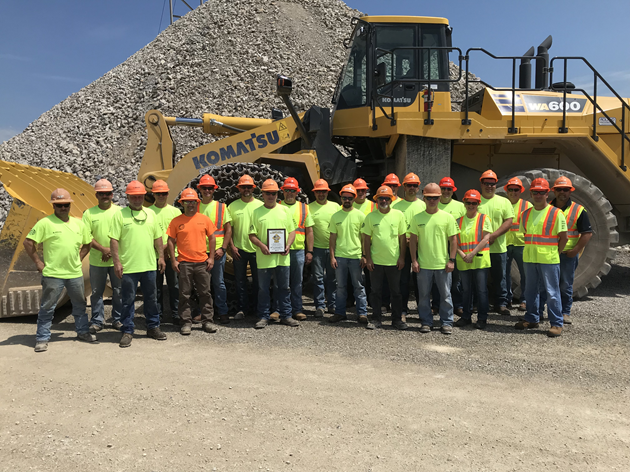 Delta Asphalt of Arkansas crews from the Searcy and Clinton, AR areas.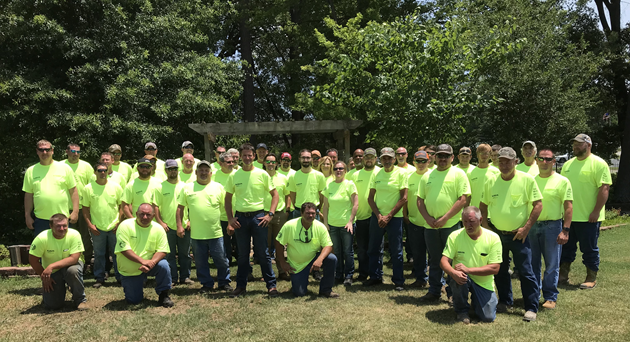 Delta Asphalt of Arkansas crews from Luxora and Paragould, AR areas.

Sand & Gravel facility in Dexter, MO.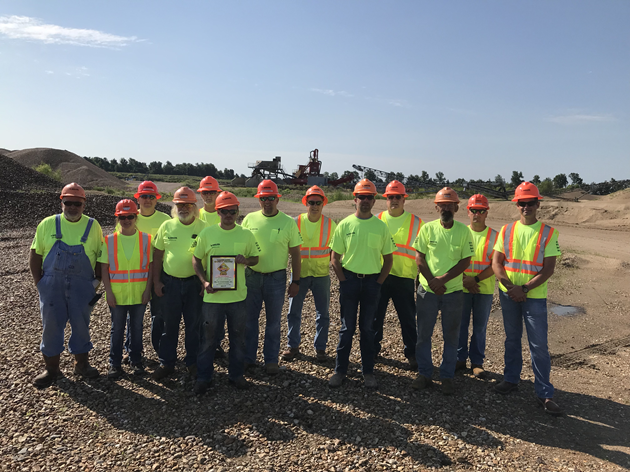 ASA Asphalt crews at HMA Plant in Advance, MO.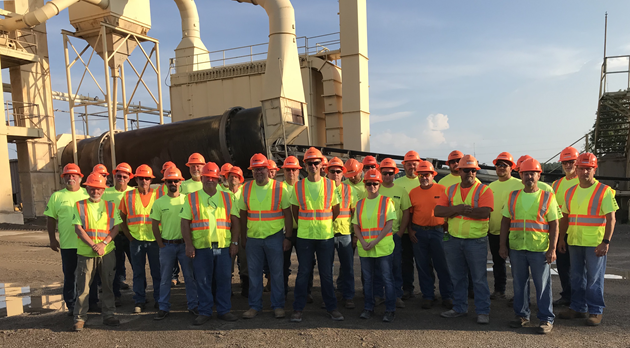 SIS Quarry in Goreville, IL.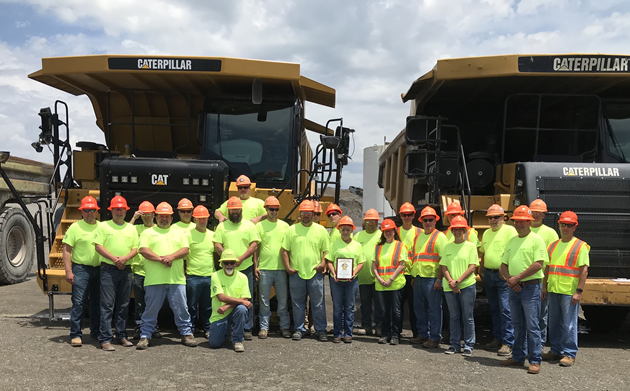 Heartland Materials Quarry in Jackson, MO.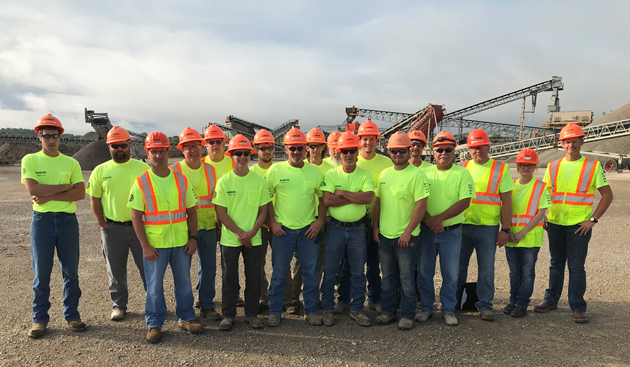 Delta Companies Inc. Corporate Office in Cape Girardeau, MO.