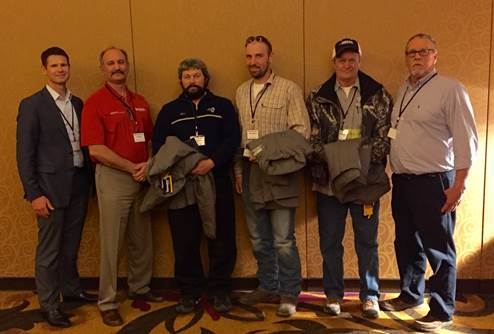 The company believes in recognizing outstanding effort in promoting safety. The Safety Guardian program is designed to recognize employees who go "above and beyond" consistently and continuously promoting safety within their respective region.  Each region is eligible to select one Safety Guardian. Safety Guardians will be selected by the Regional Manager based upon nominations from front line supervisors.
The following criteria will be considered when nominating someone as a Safety Guardian:
One who consistently displays enthusiasm and a positive attitude toward the safety effort.
One who regularly makes constructive suggestions in methods to improve the safety processes.
One who is consistently involved in carrying out the accident prevention initiatives.
One who always insists on doing every task in the safest manner possible.
One who always sets the example for others in exhibiting safe behavior.
Selection of a Safety Guardian is not mandatory and is not guaranteed.  It is not simply the person who is the best as compared to the other employees in the region.  A person chosen as a Safety Guardian must exhibit the characteristics "above and beyond" what is normally expected.
We are pleased to announce the recipients of the Safety Guardian Award for their actions and efforts in 2016:
Aggregates Region, Jake Sullivan, SEMO Quarry
Ready-Mix Region, Tim Davis (Dexter)
Ready-Mix Area Manager, Randy Hobbs
Missouri/Illinois Construction Region, Gary McIntyre (Missouri Shop)
MO/IL Construction Regional Manager, Rick Moody
Safety Guardian, Gary McIntyre
Shop Manager, Tony Shafer
Congratulations! to these individuals for being selected as Safety Guardians. We look forward to their leadership in our journey to safety culture excellence!