Zach Green, President of the Delta Companies Inc., is now also the President of Reeves Construction Company.
On January 5th, Robert Ponton, Executive Vice President – Southeast of Colas Inc., made the announcement virtually to the management teams of the two companies. Both Delta and Reeves are wholly-owned subsidiaries of Colas Inc., headquartered in Roseland, New Jersey.
Robert stated, "Zach will lead Reeves Construction Company and Delta Companies Inc. and will capitalize on the strengths and experience of our employees as we build a stronger organization together."
Zach holds a degree in Mining Engineering from Southern Illinois University (SIU) in Carbondale, Illinois. Upon graduation, he immediately went to work at Delta in Cape Girardeau, Missouri. He progressed through various positions, including Engineering Project Manager, Equipment Manager, and Aggregates Regional Manager. He then transferred to Barrett Industries, another Colas company, where he served as the Northeast Division Manager and Vice President. His area of responsibility included New York and Pennsylvania.
In 2016, Zach returned to Delta as the President. Since that time, he led the successful acquisition of two local operations – Heartland Materials Quarry, a limestone mining operation located in Jackson, Missouri, and ASA Asphalt, an asphalt paving company with an HMA Plant based in Advance, Missouri.
Most of his time so far this year has been invested in meeting the people of Reeves and visiting its various manufacturing facilities and regional offices. The Reeves group manages twenty-two HMA Plants, a quarry, and two liquid terminals with emulsion production capabilities, in addition to numerous construction crews.
Reeves, with annual sales exceeding $300 million, is a leader in heavy highway construction in the Southeastern United States, performing work for Departments of Transportation in Florida, Georgia, South Carolina, and North Carolina, as well as a long list of commercial and private customers and local government entities.
Reeves is comprised of Reeves Construction, Sloan Construction, RB Baker Construction, and Southeast Emulsions.

Sloan Construction performs asphalt paving and site development work, including highways, streets, port infrastructure, railroads, and airports, in South Carolina and North Carolina.
Since 2011, Sloan Construction has mined granite at its Blacksburg Quarry for use in construction projects throughout the Carolinas.
R.B. Baker Construction works in the heavy highway and site development sector, performing large civil projects annually for the Georgia and Florida Departments of Transportation, and for public and private clients.
Southeast Emulsions, with terminals in Union, South Carolina and Perry, Georgia, produces asphalt emulsions and polymer modified emulsions, which are used in virtually every type of pavement preservation including surface treatments, cold mixes, recycling, and tack coats.
During his visits, he has been impressed with the similarities between the two companies. Zach said, "I am very pleased with the high level of commitment of the folks at Reeves to building and maintaining a strong safety culture and the dedication to providing high-quality products and construction services. It is exactly what I am used to at Delta." He went on to say, "I look forward to the great future these two companies will share!"
Zach, wife Kelly, and three children, Liam, Nolan, and Harper and canine Bentley will be relocating to Greenville, South Carolina in the coming months.
You may learn more about Reeves by visiting www.ReevesCC.com.
Colas Inc. began operations in the northeastern United States in 1979. Since then, Colas has continued to expand throughout the country with several acquisitions, in addition to organic growth. Today, its network of seven operating companies allows Colas to provide most of its products and services anywhere in the United States, from Alaska to Florida and New York to southern California. Its 5,000 plus employees operate from more than 50 regional offices.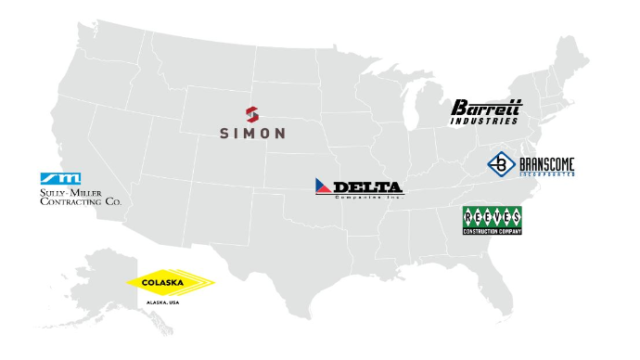 You may learn more about Colas Inc. by visiting www.ColasUSA.com.