"The asphalt pavement industry is committed to building high-quality projects that deliver superior performance to the traveling public. All contractors' projects earning a Quality-In-Construction award are measured against best practices designed to live up to that commitment," said 2019 National Asphalt Pavement Association (NAPA) Chairman John Harper.
For 2019, NAPA recognized 354 projects with a "Quality-In-Construction Award" at its Annual Meeting in early February. The quality-minded crews of the Delta Companies Inc. earned three of the awards.
ILLINOIS
Work on Old US 51 in Pulaski and Union Counties: Southern Illinois Asphalt Co., Inc. (one of the Delta Companies Inc.) widened the road two feet, milling out the existing five inches of shoulder and then laying two asphalt binder courses and a final asphalt surface course. It also patched approximately 250 areas of the existing roadway. The project began at the south limits of the city of Dongola and stretched south on US 51 for 3.7 miles. Supervisor Bryce Hill and his team placed 2,300 tons of asphalt shoulders, 3,900 tons of Level Binder, and 4,000 tons of Surface Course. The asphalt mixtures were produced at our HMA Plant in Buncombe by Kenny Watson and crew.
MISSOURI
Work on Route D in Dunklin and New Madrid Counties: Apex Paving Co. (one of the Delta Companies Inc.) placed a 1-inch overlay on the road, greatly increasing its smoothness. The project mixes incorporated 47 percent recycled materials, including reclaimed asphalt pavement (RAP), recycled asphalt shingles (RAS), and steel slag. This sustainable approach conserved natural resources and reduced energy consumption and the production of greenhouse gases. Supervisors Joe Colbert and Derrick Schatte and crews placed nearly 20,000 tons of Surface Leveling on 22 miles of Route D from Route 25 to Route 61. The asphalt mixture was produced by our portable HMA plant while stationed in New Madrid under the supervision of Aaron Anderson.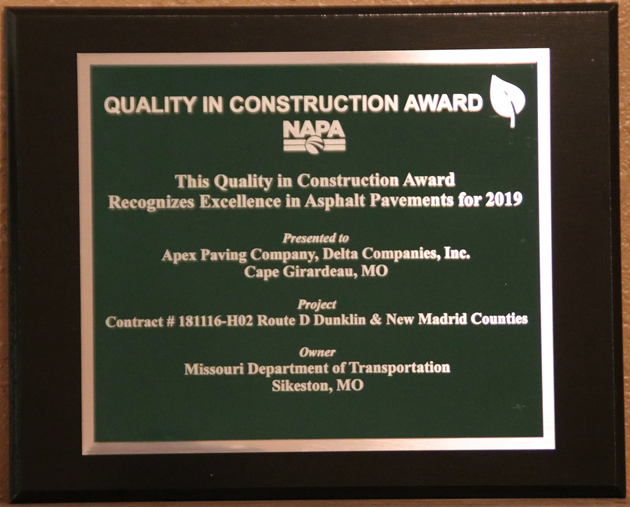 ARKANSAS
Work on 7.6 miles of US 62 in rural Sharp and Fulton Counties: Delta Asphalt of Arkansas, Inc. (one of the Delta Companies Inc.) milled the road and then placed a two-inch overlay of Superpave asphalt on all five lanes using rollers with intelligent compaction to achieve the desired smoothness. The asphalt mixes contained 29 percent reclaimed asphalt pavement (RAP) and used a production method that required less energy, conserving natural resources and limiting greenhouse gas emissions. (The milling operation was performed by The Miller Group, based in Atlanta, Georgia. They are a subsidiary of The Miller Group in Ontario, a sister-company of Delta.) Supervisors Sid Binkley and Wade Murray and crews placed 48,000 tons of Surface Course over the 10 miles of roadway. The asphalt mixture was produced by our portable HMA plant staged in Ash Flat under the supervision of Tim Eash.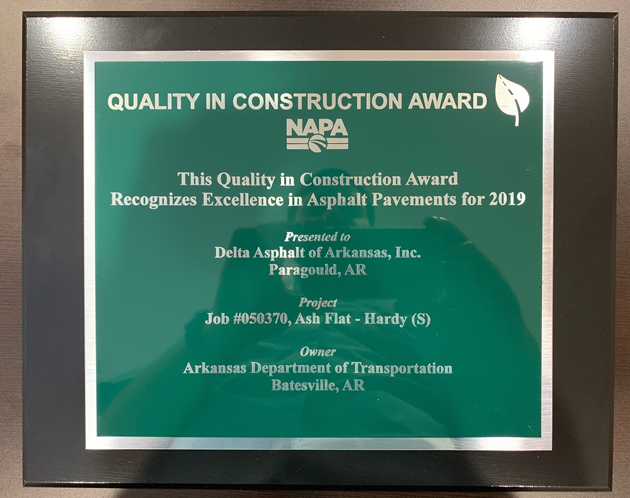 Delta Companies Inc. President Zach Green said "I am not surprised our crews earned these Quality-In-Construction awards because I know their values and their commitment to excellence in safety, quality, and production. I am proud of Bryce and the crew of Southern Illinois Asphalt Co, Inc.: Kenny and the crew at the Buncombe HMA Plant; Joe, Derrick, and the crews of Apex Paving Company; Sid, Wade, and the crews of Delta Asphalt of Arkansas Inc.; Aaron, Tim, and their crews at the portable HMA Plant; and Shannon, Jason, Cody, and their staff in our quality control laboratories. Well done Team Delta!"
Visit www.AsphaltPavement.org to learn more about NAPA and its numerous activities, including the Annual Meeting and Awards Program.