Jeff Goss has earned recognition as the "2019 Safety Guardian" for the Delta Companies Inc. in recognition of his outstanding commitment to our journey to safety culture excellence.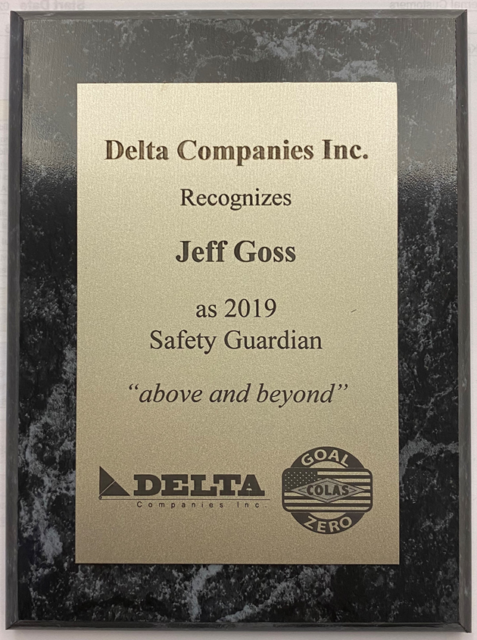 John Bennett, South Region Manager, announced Jeff's selection and presented him with a plaque and jacket during the South Region Kick-Off Meeting on March 4 in Paragould, Arkansas.
The Delta Companies Inc. (Delta) believes in recognizing an outstanding effort in promoting safety. The Safety Guardian program is designed to recognize employees who go above and beyond consistently and continuously promoting safety within their respective region. Each region is eligible to select one Safety Guardian. Safety Guardians will be selected by the Regional Manager based upon nominations from frontline supervisors.
The following criteria are considered when nominating someone as a Safety Guardian:
One who consistently displays enthusiasm and a positive attitude toward the safety effort.
One who regularly makes constructive suggestions in methods to improve the safety processes.
One who is consistently involved in carrying out the accident prevention initiatives.
One who always insists on doing every task in the safest manner possible.
One who always sets the example for others in exhibiting safe behavior.
Selection of a Safety Guardian is not mandatory, nor is it guaranteed. A person chosen as a Safety Guardian must exhibit the characteristics above and beyond what is normally expected.
Additional information regarding the Safety Guardian program may be found here: Safety Guardian.pdf
Artie Cousins, Plant and Quarry Manager, included the following in his nomination: "Jeff is always watching for unsafe actions and unsafe conditions, and is the first one to report anything he sees that is unsafe or something that could become unsafe if the right conditions occur. He is the guy that sets the example by being safe and consistent, even if it's not popular thing at the time. Jeff is always sharing ideas to make things safer for everyone around him."
Prior to beginning his career with Delta in 2015, he worked as a shift manager at a fast food restaurant, carpenter, finisher, installer, certified nursing assistant, delivery driver, manager, award winning graphic designer, landscaper, environmental scientist, and chemist. Jeff holds a Bachelor of Science in Chemistry from Lyon College.
Jeff is currently a Quality Control Technician 2 with certifications for Soils, Aggregates, and Hot Mix Asphalt testing. In addition to his quality control duties, he also fills in as a loader operator, groundsman, maintenance man, flagger, plumber, and on the construction crews.
Jeff sees his role in our safety culture as no different than anyone else's. Since he is on the frontlines, he has more opportunity to observe and participate in some of the more potentially hazardous tasks requiring extra safety measures. Jeff said, "I would say that the most important role any of us play is maintaining a positive attitude for safety. If people see that we are excited about safety, they will give it more credence than if we have a poor, apathetic attitude."

The most engaging part of the safety culture for Jeff is the SHIELDS process. He explained, "It fosters the mentality that we do care about safety, that we can initiate changes for the better within our work place, and that we are recognized for our efforts in making a safer workplace." Jeff has submitted a total of 23 SHIELDS Reports, including 11 in 2019.
The SHIELDS reporting form may be found at: SHIELDS Report (revised 09-07-18).pdf
He hails from Atlanta, Texas and currently lives in Batesville, Arkansas with his wife Kristina and their three children — Jacob (6), Fredrick (2), and Brynlee (4 months). They also have three dogs, a Pitbull named Raven, a Chihuahua named Buddy, a mutt named Buster, and a cat named Captain Jack.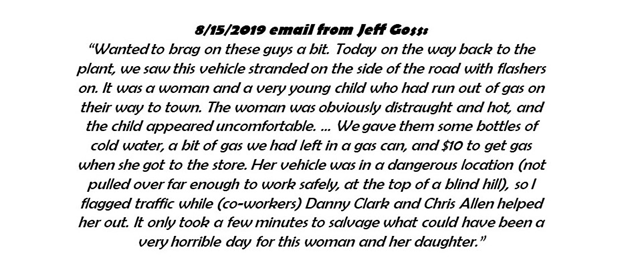 Jeff sums up his thoughts toward safety in this way. "I am responsible for my own safety; Delta/Colas just provides the tools to help me meet that responsibility. We can look out for one another as well, but at the end of the day my safety depends on me and the choices that I make."