Aggregate Operator, Clinton Quarry
"Don't burn yourself on the ovens" was the extent of the safety training Seth Bigham received as a shift manager for a local pizza restaurant. Good advice, but that was it. No safety department. No further safety training.
In 2005, he left the pizza business for a position in the quality control department of Delta Asphalt of Arkansas. Interestingly enough, he was also told, "don't burn yourself on the ovens."
He earned his quality control certification in aggregates and, later, in hot mix asphalt. Seth moved into operations at the Clinton Quarry, learning how to operate loaders, haul trucks, the water truck, and all aspects of the crushing plant. Today, Seth operates the primary crusher and oversees the entire processing plant.
Safety Commitment
Seth served on Continuous Improvement Team #3, which was tasked with improving the quality of collecting and sharing "close calls" (now known as the SHIELDS process). He also served on Continuous Improvement Team #4, charged with improving the Job Safety Analysis process (renamed Safe Operating Procedures). Because he knows everyone benefits when these processes are done correctly, he demonstrates to his co-workers the simplicity of completing SHIELDS and SOPs.
Seth leads Safety Meetings, submits SHIELDS, and creates and reviews SOPs, but his commitment does not end there. He constantly encourages and reminds co-workers to look out for each other, along with the importance of wearing proper Personal Protective Equipment (PPE).
Safety Guardian
In recognition of his leadership in our journey to safety culture excellence, Seth was selected as a "Safety Guardian" for 2018.
The Safety Guardian program is designed to recognize employees who go above and beyond consistently and continuously promoting safety within their respective Region.  Each Region is eligible to select one Safety Guardian.   Safety Guardians will be selected by the Region Manager based upon nominations from frontline supervisors.
The following criteria will be considered when nominating someone as a Safety Guardian:
One who consistently displays enthusiasm and a positive attitude toward the safety effort.
One who regularly makes constructive suggestions in methods to improve the safety processes.
One who is consistently involved in carrying out the accident prevention initiatives.
One who always insists on doing every task in the safest manner possible.
One who always sets the example for others in exhibiting safe behavior.
Selection of a Safety Guardian is not mandatory and is not guaranteed.  It is not simply the person who is the best as compared to the other employees in the region.  A person chosen as a Safety Guardian must exhibit the characteristics above and beyond what is normally expected.
Seth certainly does that!
At Delta Days 2019 in February, Seth received special recognition, including a jacket and award. He was also recently recognized in the Colas Crossroads magazine.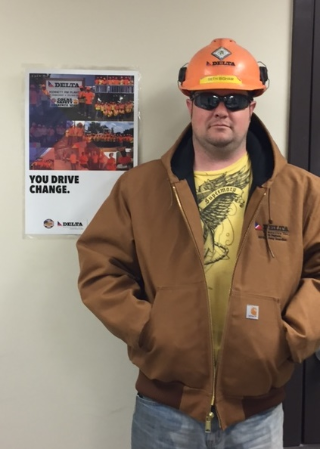 Seth, wife Samantha, daughter Chloe, and son Nathan live in Clinton with their outside dog Daisy, indoor cat Kitty, and six chickens. He enjoys camping, hunting, and fishing, as do all good Arkansans. He also likes to work on cars and play video games. He claims to be a pretty good cook, but struggles with desserts.
(Note to Seth – let us know when you get that dessert thing down, and we will all be over for dinner! And remember, "Don't burn yourself on the ovens!")