Aggregate Operator, Heartland Materials Quarry
Being a "safety guy" is nothing new to Paul Hudson. He was a First Responder for eight years with a previous employer in Cape Girardeau, Missouri, receiving extensive safety training and participating in monthly mock-emergency drills.
Paul has brought that experience, knowledge, and commitment to the Delta Companies Inc. He went to work at the Heartland Materials Quarry in 2015, which joined Delta in October 2017. His daily assignment is to keep both plants – primary crushing and secondary processing – up and running. He calls himself a maintenance man; but, when needed, he also operates the crusher, skid steer loader, haul trucks, loaders, and the agricultural lime processing plant.
Safety Commitment
He has no problem speaking up during Safety Meetings or to individuals throughout the day regarding safety. He's sort of a "big brother" to many of the crew working at the quarry, and recently demonstrated these qualities while serving on Continuous Improvement Team #6.
Paul has also started a practice of complimenting a co-worker, such as, "thanks for operating the excavator efficiently" or "thanks for helping a co-worker lift and carry an item." He then asks that person to compliment another co-worker. It's a very public, yet a comfortable, environment to "catch'em doing right!" For this and numerous other reasons, he was selected as a "Safety Guardian" for 2018.
Safety Guardian
Delta Companies Inc. believes in recognizing an outstanding effort in promoting safety, so it established the Safety Guardian program in 2012. The program is designed to recognize employees who go above and beyond consistently and continuously promoting safety within their respective Region.  Each Region is eligible to select one Safety Guardian.   Safety Guardians will be selected by the Region Manager based upon nominations from frontline supervisors.
The following criteria will be considered when nominating someone as a Safety Guardian:
One who consistently displays enthusiasm and a positive attitude toward the safety effort.
One who regularly makes constructive suggestions in methods to improve the safety processes.
One who is consistently involved in carrying out the accident prevention initiatives.
One who always insists on doing every task in the safest manner possible.
One who always sets the example for others in exhibiting safe behavior.
Selection of a Safety Guardian is not mandatory and is not guaranteed.  It is not simply the person who is the best as compared to the other employees in the Region.  A person chosen as a Safety Guardian must exhibit the characteristics above and beyond what is normally expected.
Paul received a Safety Guardian jacket and other recognition at Delta Days 2019 earlier this year. He was acknowledged again in the most recent issue of the Colas Crossroads magazine.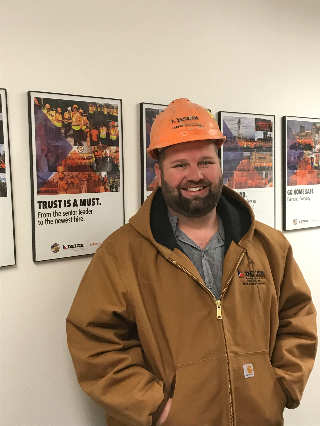 .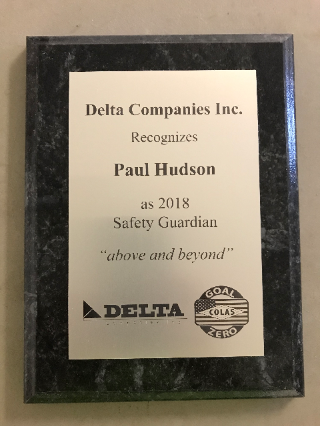 He lives in Fruitland, Missouri with his wife Lisa, their two sons – Tyler and Caleb, and the extended family – Loki (dog) and Belle (cat). Paul enjoys spending time with the boys, hunting, and fishing (in that order).
Initially, he didn't really care much about Delta coming to the quarry. But today, when asked about the Delta culture, specifically the safety culture, his answer is short – "love it!"
He says, "I'm pretty safe now."
And, we are all safer because of your leadership, Paul!