Laurel McClelland is passionate about chemistry and education. She recently utilized these passions to teach the science of asphalt to several classes of EDGE students.
Who is Laurel McClelland? What does she know about science or asphalt? What are EDGE students?
Laurel is the Manager of the Quality Assurance Laboratory for Heartland Asphalt Materials Inc. (HAM), which is a subsidiary of Delta Companies Inc. (Delta). HAM operates a liquid asphalt terminal located in New Madrid, Missouri. The terminal receives liquid asphalt from barges operating on the Mississippi River. This material is then processed into various products, including asphalt emulsions and performance-graded (PG) binders used in the manufacturing of road construction and maintenance products. The laboratory, located in Cape Girardeau, Missouri, is shared with the quality control personnel for other Delta operations, such as aggregates, asphalt plants, and construction. This facility is accredited for PG Binders by the American Association of State and Transportation Officials (AASHTO).
Laurel's degree is in Chemistry Education from Southeast Missouri State University (Go Redhawks!). Before joining the HAM team in 2013, she taught science to junior and senior high school students in Poplar Bluff and Clarkton, Missouri. She holds numerous certifications, including Binder Technician from The Asphalt Institute. She delights in introducing young students to the science of asphalt through the process of making "slime."
The EDGE program at Coronado High School in Colorado Springs, Colorado focuses on teaching students the skills necessary to be accepted and to graduate from college. It is a community of students determined to succeed in secondary and post-secondary education. It also includes adults committed to challenging, supporting, and encouraging them along the way.
After a selection process, EDGE students commit to the program for all their remaining years of high school. They enroll in a year-long elective class where they learn to:
Manage materials, time, and priorities
Create and revisit Cornell Notes for studying in all subject areas
Participate in rigorous inquiry-based question method
Learn reading and writing skills to support rigorous coursework
Develop leadership skills in community service and other collaborative team activities
Laurel gave virtual presentations to four different classes on February 23 to promote the importance of Science, Technology, Engineering, and Mathematics (STEM) during Engineers Week (February 21-27). The presentation, titled "Asphalt Tech 101," discussed the science of asphalt, including asphalt emulsions and PG binders, and explained what an asphalt binder technician does.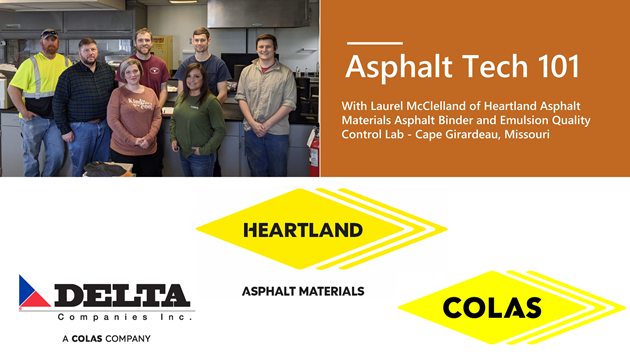 Why did she take the time to talk to students? Laurel said: "I enjoy talking to kids about the science behind asphalt because it's a huge field…that very few people know about. I had no idea how much science went into our roads before starting this job, nor did I realize that quality control would be this unique field where construction and chemistry meet. I feel like that is something worth sharing with the next generation."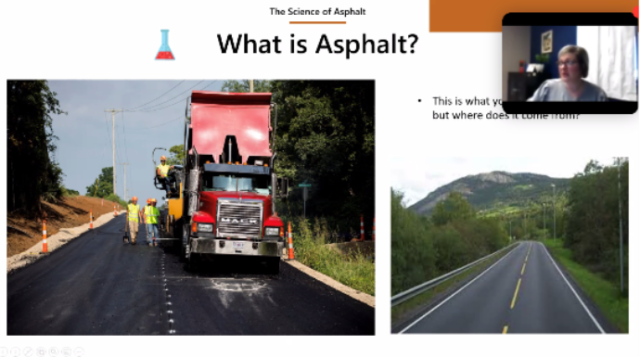 Sara LaVerne, Special Education, EDGE, and GradPoint Teacher at Coronado High School, sent the following note to Laurel: "During a typical school year, we take students on field trips to numerous colleges and offer opportunities to shadow and learn about different career and educational options. Unfortunately, the restrictions and barriers that COVID-19 has presented this year have made many of these experiences extremely difficult and in some instances logistically impossible. We so appreciate you taking the time to share your unique knowledge and expertise with our students. Women working in the Science, Technology, Engineering, and Mathematics (STEM) fields offer a valuable and rare perspective that we often find difficult to properly highlight for our students. Thank you again for offering our students this opportunity to learn from you. It is appreciated more than you know."
Why Coronado High School in Colorado? Two reasons: they asked, and her husband has family working at the school.