A caravan of vehicles carrying one-dozen-plus four and five-year-olds and their helpers streamed into the parking lot of our quarry south of Cape Girardeau.
These students, parents, and instructors from the "School for the Young Years" were there for a field trip to the Delta Companies Inc.'s limestone quarry at the intersection of Old Highway 61 and South Sprigg Street.
Thirteen 4-5 year olds, accompanied by parents and instructors (Miss Sue and Miss Kim), enjoyed a field trip to our large limestone quarry on the south end of Cape Girardeau, Missouri.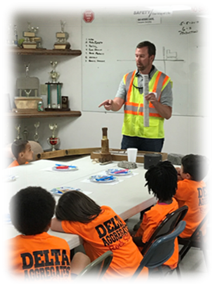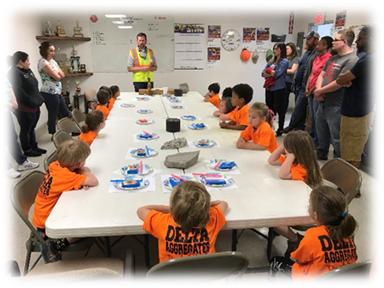 Sue Kopf (Miss Sue) and Kim Schlosser (Miss Kim) brought her class of students to our quarry on the morning of May 2nd. Mr. Mike (also known as Aggregates Area Manager Mike Martin) provided an educational and entertaining presentation regarding aspects of the mining industry. If you have never mentioned "quarry exploration" and "cupcake" in the same breath, then you need to attend Mike's next presentation! The indoor session included crayons, coloring pages, juice boxes, and straws.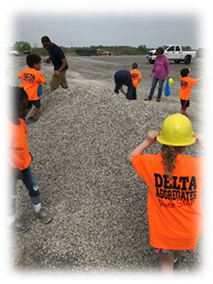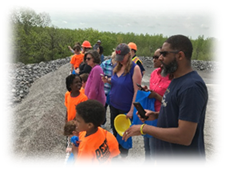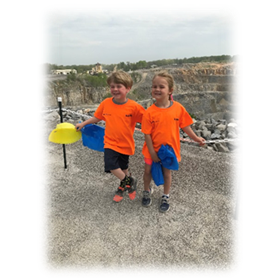 The group then had the opportunity to dig around in the rocks looking for crystals and other "treasures" in a few specially-made aggregate stockpiles. They also were able to look down into the very deep hole that is the SEMO Quarry and watch the haul trucks traverse the property. And, of course, the obligatory "picture standing next to the large loader" signaled an end to the morning's activities.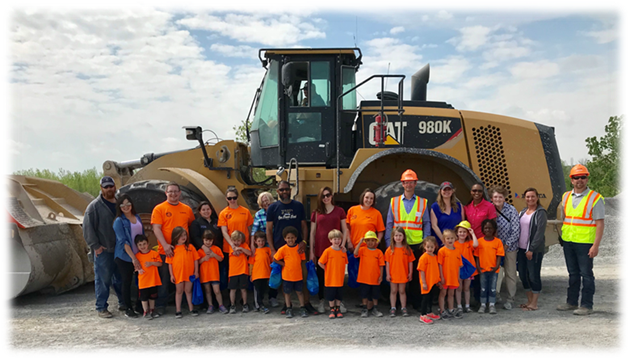 Each child (and many of the adults) departed from the site with Delta orange "Rock Star" shirts, Delta yellow "hard hats," and a bag of crystals and other aggregate products.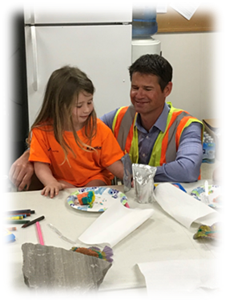 One of the visitors had a special connection with a Delta employee – Harper's dad is Delta President Zach Green.
The event was very well done and well received thanks to Mike, Scale Clerk Samantha Stevens, Project Engineer Drew Hoover, Quarry Manager Terry Everly, Quarry Foreman Jake Sullivan, and the entire crew at our SEMO Quarry.
It is our goal that this event and others like it are informing the neighbors about our rewarding industry and the measures taken to insure we operate a safe and environmentally-friendly operation. We are also looking for the next generation or two of operators, drivers, engineers, and managers.