Members of the National FFA Organization  (formerly Future Farmers of America) from the Jackson High School chapter visited the Delta Companies Inc. Cape Complex on Friday, November 16.
The visit was one of several stops on this year's Fall Business Tour. The Tour provided students an opportunity to see manufacturing processes firsthand and talk to industry professionals regarding various career opportunities available in southeast Missouri.
Sara Green, Agriculture Instructor and FFA Advisor, contacted us two weeks ago about the possibility of a tour of our facilities. Fellow instructor James McCormack had visited our facilities earlier in the year as part of the "Pathways for Teachers Institute" training session and had recommended us to Ms. Green. (You may learn more about that event by clicking:  https://deltacos.com/community-relations/uavs-class-becomes-workforce-development-opportunity/)
Ten high school students accompanied by Ms. Green, Mr. McCormack, and fellow instructor Ms. Shantel Cooper arrived in a very big bus driven by Jennifer Schnurbush. She said she had a lot of experience driving in challenging places, so she would have no trouble driving through the quarry and our other manufacturing plants. She was right! The students insisted to include her and the bus in the photos.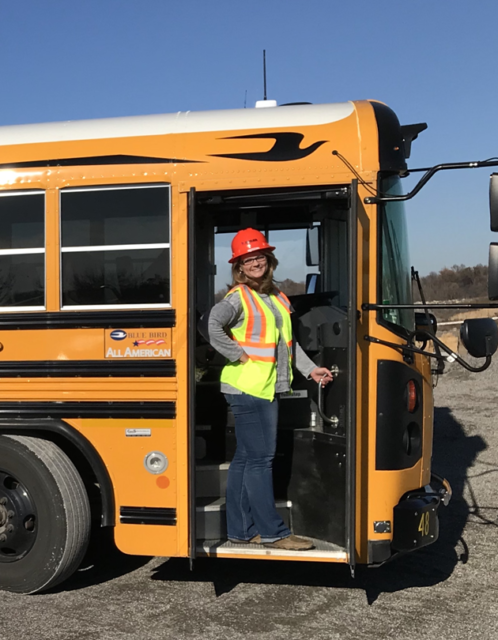 We provided tours of our Cape Complex, which includes the SEMO Quarry, the Cape Girardeau HMA Plant, the Missouri Shop, and the Missouri Quality Control Lab. Don Rosenbarger served as tour guide on the bus. Jerry Neels – Regional EHS Coordinator, Terry Everly – Quarry Manager, Christine Linguanti – Project Engineer, Amos Taylor – Asphalt Plant Supervisor, Joe Vernon – Asphalt Plants Manager, Tony Shafer – Shop Manager, and Shannon Sinn – Quality Control Manager provided site specific commentary for their respective areas of responsibility. Dan Grier with SEMO Ready Mix joined the tour to explain the operation of a ready-mix concrete plant.
Several of the students are studying welding and other hands-on courses, such as woodworking and metalworking. These are skills that will serve them well in the construction industry. When asked by Shop Manager Tony Shafer if anyone was interested in becoming a "mechanic," several students raised their hands. Tony was pleased and encouraged them to come back and see him after graduation.
The FFA is an intracurricular youth organization for those interested in agriculture and leadership. FFA is not just for students who want to be production farmers; FFA also welcomes members who aspire to careers as teachers, doctors, scientists, business owners, and more.  It helps prepare members for premier leadership, personal growth, and career success through hands-on experiences, which give members the tools to achieve real-world success.
You may learn more about the National FFA Organization by contacting Ms. Sara Green at  and visiting www.FFA.org.