From roads… to all forms of transportation infrastructure
1929: Colas is born
Société Routière Colas was founded in France in 1929 by Shell and Société Générale d'Entreprises to operate the "Cold Asphalt" asphalt emulsion patent. The company originally specialized in the production of asphalt emulsion in addition to road construction.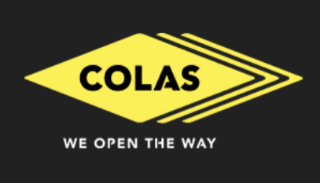 In the 1930s, Colas established operations in northern and western Africa and the French Caribbean.
In 1959, Colas expanded its construction business to include road safety and signaling. By the early 1960s, Colas had an extensive network of sites in western Africa and had established a presence in Canada by acquiring a Quebec-based company in 1962, and subsequently in the United States by acquiring assets in 1979 that led to the creation of the Group's first US subsidiary.
Starting in the 1980s, Colas' network of construction companies in mainland France grew rapidly through the acquisition of various small and medium-sized regional companies. It also added Sacer in 1992 and Screg's road subsidiaries in 1996, thus making Colas a leader in the global transportation construction industry.
During this time, Colas also stepped up its international expansion in the Indian Ocean region through an acquisition in 1980 – the first building block of the Group's expansion in this part of the world. The Colas footprint continued to grow in North America with the purchase of numerous companies in Canada and the United States, including the Delta Companies in 1992. Companies in central Europe (Hungary, Romania, and the Czech Republic) joined the Colas Group in 1989, along with companies in the United Kingdom, Denmark, and Ireland in 1995.
Colas participated in a joint venture in Asia in 1981. This was followed in 1993 by the construction of an emulsion plant. A major acquisition in Australia occurred in 2008.
The Group also expanded into civil engineering and building in and around Paris and in the Indian Ocean, including networks, waterproofing, and railways. Alongside these developments, Colas pursued the vertical integration of its businesses by acquiring a great number of quarries and gravel pits in the regions where it operates.
Over the years, Colas has paved the way to a solid profile by broadening its lines of business (via specialized activities and vertical integration), by steadily strengthening its foothold in local markets, and by expanding its global network.
We encourage all of our employees to celebrate the first 90 years of Colas by proudly displaying the sticker on their hard hat, tool box, or equipment. Each employee has been given a sticker like the one below …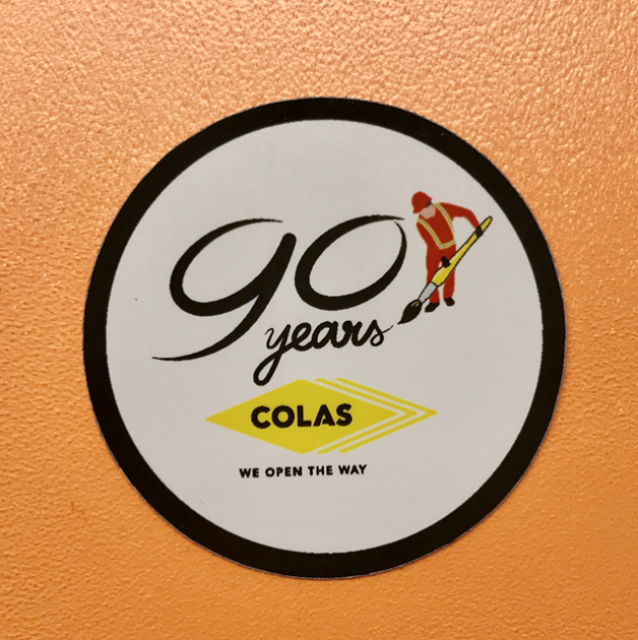 You may learn more about the Colas Group by visiting www.colas.com  and Colas USA at www.colasusa.com.