The Missouri Department of Transportation (MoDOT) Southeast District held its annual Construction Career Day on October 30 at the Cape Girardeau Career & Technology Center on South Silver Springs Road in Cape Girardeau.
Construction Career Day is designed to introduce high school students to construction careers. Construction is one of the country's largest industries and is facing a shortage of skilled workers. If not addressed, this shortage will only increase. It will affect quality, safety, and the industry's overall ability to effectively build the infrastructure needed for our future. This event provides an opportunity to educate young people about the various rewarding opportunities available in the construction industry.
Approximately 120 high school students from southeast Missouri participated in the event. The students were able to visit numerous informational booths, walk around and climb in equipment, observe and ask questions during a panel discussion with industry leaders, and tour several working manufacturing facilities.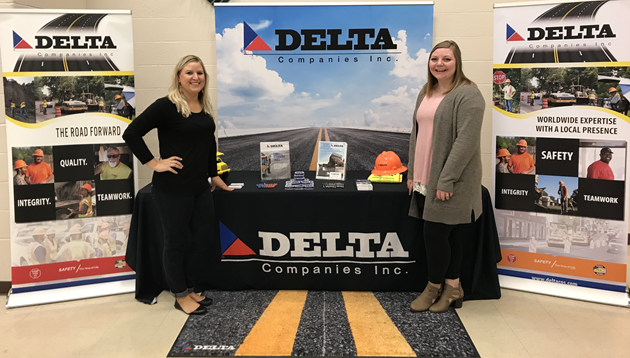 Exhibitors at the event included: Roland Machinery, Ameren, Sunbelt Rentals, Southeast Missouri State University (Department of Engineering & Technology), Southeast Missouri Carpenters Apprenticeship Program, Buzzi Unicem USA, Job Corps, L. Keeley Construction Company, MoDOT Equal Opportunity Diversity Division, MoDOT HR (Southeast District) – Driver Safety, MoDOT External Civil Rights Division, the AGC of Missouri, and the Delta Companies Inc.
The Panel Discussion was moderated by Pastor Daryl Minner and featured Steve Bubanovich – Construction Manager with H. R. Quadri Contractors, LLC; Andrew Meyer – Assistant District Engineer with MoDOT for the Southeast District; Katy Liley, P.E., – Project Manager with Gerdan Slipforming; Eugene Little – Owner of Little Painting & Drywall; and Phil Heimbecker – Human Resources Manager for the Delta Companies.
We provided tours of our Cape Complex, including the SEMO Quarry, the Cape Girardeau HMA Plant, the Missouri Shop, and the Missouri Quality Control Lab. Mike Martin, Christine Linguanti, Jerry Neels, and Don Rosenbarger served as tour guides for the bus trips. Terry Everly, Robert Walls, Justin Bennett, Amos Taylor, Joe Vernon, Tony Shafer, Aaron Fortner, Kari Wagner, Cody Essner, and Brandon Machen provided site specific commentary at their respective stops. Dan Grier with SEMO Ready Mix joined the tour for a discussion of the ready-mix concrete plant.
Participating high schools were Caruthersville, Portageville, Charleston, East Prairie, and the Cape Girardeau Career & Technology Center (CTC). The CTC includes students from Advance High School, Central High School, Central Academy, Chaffee High School, Delta High School, Jackson High School, Kelly High School, Leopold High School, Notre Dame High School, Oak Ridge, Saxony Lutheran High School, Scott City High School, and Woodland High School.
We wish to thank the MoDOT staff, especially April Hendricks-Brown – Sr. Civil Rights Specialist; Kathleen Clayton – Workforce Develop Coordinator and Rebecca Peters – Vocational Guidance/Placement with the CTC; and Brenda Robinson Echols, Rosie Davis, and Felicia Anderson with Lincoln University for their assistance during this event.
You may learn more about the CTC and the various programs it offers by visiting: https://ctc.capetigers.com/home. You may also learn more about the Missouri Department of Transportation at https://www.modot.org.