Missouri/Illinois Construction Manager Brandon Machen accepted an award on behalf of Southern Illinois Asphalt Company (SIAC) at the Southern Illinois Builders Association (SIBA) Safety Awards Banquet in Carlisle, Illinois on March 14, 2018.
SIBA is a chapter of the AGC of America representing the southern Illinois construction industry.
The award was the "Safety Merit Award" for recording zero lost work days in 2017 in the category of 30,000 to 60,000 man hours worked. This is the second year in a row that SIAC has earned this award.
Awards are not why we are safe – we earn awards because we are safe.
Brandon is shown below with Zach Maggio, Co-Chair of the SIBA Safety Committee.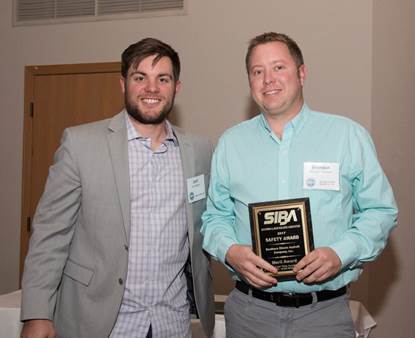 Estimator/Project Administrator Jim McPhail was also present at the event to celebrate this achievement.
Congratulations to (former) Regional Manager Rick Moody; (current) Regional Manager Steve Peterson; Construction Manager Brandon Machen; Supervisors Robert Tucker, Paul Rydgig, and Chad Phillips; and the crews of our Illinois Construction operations!