On Wednesday, October 31 (which happened to be Halloween), Colas Inc. representative Jon Hager (Plants and Equipment) wasn't sure if he would get a trick or a treat during his final inspection at the Southern Illinois Stone (SIS) Quarry Shop.
He most definitely received a treat!
And, so did our Shop as it was awarded the Colas 6S – Silver Level certification.
Quarry Manager Rodney Lingle and Foreman Jethro Lanphear manage a team of nineteen people from Johnson, Union, and Williamson counties. The team worked diligently to earn the Bronze Level last year. This year they worked smart to earn the Silver Level. When asked how his team achieved the Silver Level, Lingle provided a list of upgrades including relocating a few of the parts bins resulting in more work area and staging area for parts, adding handrails to the area above the training room, and replacing caution tape used to delineate areas in the shop with paint (the paint is more durable and eliminates tripping hazards).
"This is a good thing we are doing here. Everyone is learning to put ideas together, to see the negatives and positives, and to make things better and safer," added Lingle. He was quick to recognize the entire crew at the SIS Quarry, especially mechanic Kevin Minton.
Other Delta representatives attending the final inspection were Regional Manager Steve Peterson, Plants & Equipment Manager Jerry Farnham, and Aggregates Area Manager Mike Martin.
The Southern Illinois Stone Company is one of the Delta Companies Inc. affiliates operating in southern Illinois along with Southern Illinois Asphalt Company (SIAC) and Southern Illinois Materials Company (SIMCO). Delta Companies Inc. is a highway contractor specializing in asphalt paving and road construction materials, including aggregates, asphalt mixes, emulsions, and other asphalt products. The company operates in southern Illinois, southeast Missouri, and northeast Arkansas.
The Colas 6S Shop Certification was introduced in 2012 to recognize Colas USA companies who sustain best management practices, including environmental and safety, at their facilities. The 6S program requires organizing the workplace, keeping it clean, eliminating waste, and maintaining new standards using the 6S principles of Safety, Sort, Straighten, Shine, Standardize, and Sustain.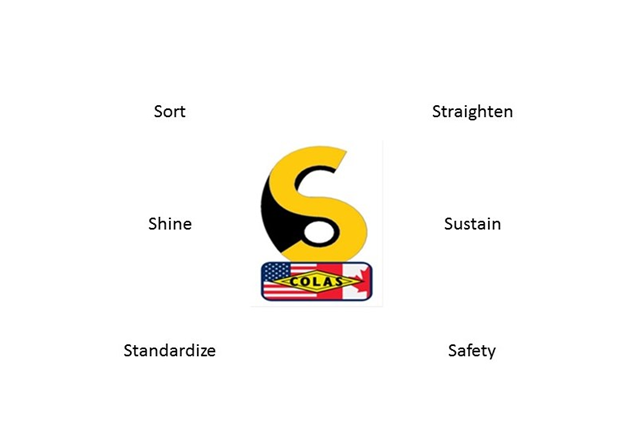 Shops achieve the Bronze Level certification by undergoing a formal audit by environmental staff, safety professionals, and senior management. Working through the numerous steps involved in this process is challenging and creates a sense of pride within the team as it works toward certification. In order to achieve the Silver Level or Gold Level certification, the Shop must continue to improve work areas and overall performance, while maintaining all the requirements of each previous level.
Colas USA companies are part of the Colas Group, the worldwide leader in transportation infrastructure construction and maintenance. The Colas Group is active in the construction and maintenance of road, air, rail and maritime transport infrastructure, urban development projects and recreational facilities. With 55,000 employees spanning 5 continents around the world, the Colas Group carries out over 100,000 projects each year, backed by a tight international network of construction materials facilities, including: aggregates mining sites, asphalt plants, ready-mix concrete plants, liquid asphalt terminals, and emulsion plants.