"These awards recognize your company's overall safety record in Missouri, as well as individual plant crews that achieved superior safety records," wrote Morgan Mundell, Executive Manager of the Missouri Limestone Producers Association (MLPA) in a recent letter to the Delta Companies Inc. (Delta).
The MLPA Safety Awards Program recognizes individual stationery or portable plant crews based solely on the length of time with no lost-time injuries in the following three categories:
Recognition for the most recent complete calendar year worked without a lost-time accident;
Consecutive years of work without a lost-time injury beginning with 5 years;
Consecutive man-hours totaling 100,000 hours and subsequent multiples of 100,000 hours without a lost-time injury (recognition only for the year that these thresholds are reached the first time).
Any plant or crew may qualify for (1), (2), and (3) if all milestones occur in the same year. Portable crews are recognized as work teams, instead of as a mine site.
Lost-time injuries are defined as injuries to non-office employees that result in permanent total or permanent partial disability and/or days away from work.
The Safety Awards Program reflects the previous year to allow for proper reporting, so the awards issued are for 2018.
"Each year the MLPA recognizes Missouri mines for their accomplishments in safety and ensuring worker safety and health through the Safety Awards Program," said Mundell. "Delta Companies and the employees of their aggregate division have demonstrated a strong commitment to safety over the years and their record shows it."
Three of the Delta operations earned a "Safety Commendation for Having No Lost-Time Accidents for the Year 2018":
Dexter Sand and Gravel
Heartland Materials Quarry
Williamsville Quarry.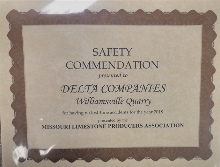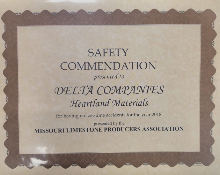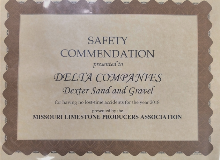 The Dexter Sand and Gravel crew earned an "Extraordinary Safety Accomplishment" award for having worked seven years without a lost-time incident.
The Williamsville Quarry crew earned two "Extraordinary Safety Accomplishment" awards:
Thirteen Years Without a Lost-Time Accident
200,000 Consecutive Hours Without a Lost-Time Accident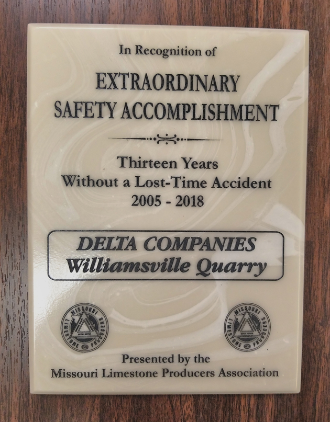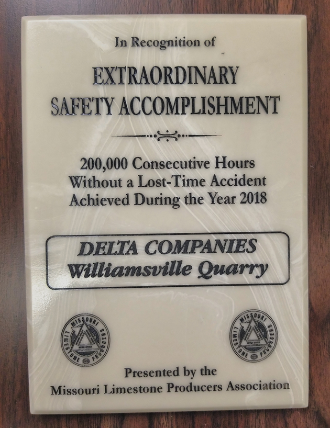 The President of the Delta Companies Inc., Zach Green, is especially proud of the recognition given to the crews at these sites. "The commitment of each person to their own safety and the safety of their co-workers is well-demonstrated at these sites and is an indication of our continuously improving safety culture," he said.
Delta wishes to recognize the following individuals:
Dexter Sand and Gravel: Site Supervisor Mike Triplett
Heartland Materials Quarry: Manager Bill Emmendorfer and Site Supervisor Cody Koehler
Williamsville Quarry: Manager Dan Cravens and Site Supervisor Jeremy Boshell
Environmental Health and Safety: Manager Bruce Menke and Regional Coordinator Jordan Janet
And, the crews at each of the sites!
The Missouri Limestone Producers Association was organized in 1944 to promote and protect the interests of crushed stone operators located or doing business in the state. The association is involved in legislative issues; state and federal regulatory matters; community and public relations; and marketing of crushed stone products. You may learn more about MLPA, the awards program, and the mining industry by visiting: www.molimestone.com.