The Delta Companies Inc. was recently recognized by the AGC of Missouri (AGCMO) with the AGC 1st Honor.
Ryan King (Regional Director, St. Louis, at BSA LifeStructures) serving as the Chair of the Supplier Service Provider Council and Anthony Lancia (Vice President of Labor Relations at AGC of Missouri) presented the award to North Region Manager Steve Peterson and Business Development Manager Don Rosenbarger on September 28 at Delta's Corporate Office in Cape Girardeau, Missouri.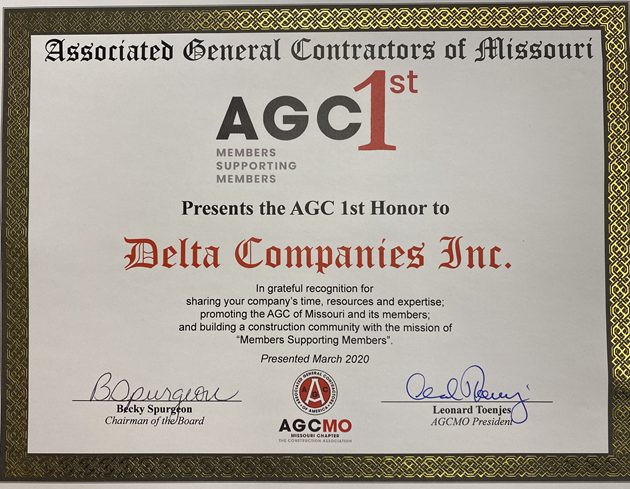 The AGCMO is a community promoting the built environment in Missouri. Through its approximately 500 member firms, the association has tremendous knowledge and resources.
Working with members acknowledges their involvement in the AGCMO and their expertise and contribution to the construction industry. Integrity, trust, and working with one another creates loyalty among members of the AGCMO and strengthens the construction community.
The AGC 1st Campaign, "Members Supporting Members," was launched at the 2017 AGCMO Construction Awards Gala. Every member firm is eligible to receive this credential annually in recognition of support to fellow members while strengthening the AGCMO and the construction industry overall.
AGCMO member companies may become an AGC 1st Honoree through an application process, which scores points based on the following criteria:
Company includes "Are you an AGCMO member?" in bid requests.
Company attends at least 4 AGCMO events annually.
Brings in a new Member.
Sponsors at least one AGCMO event, signage, or other media.
Contributes valuable written content, podcasts, legislative testimony or presentations, through or in partnership with AGCMO.
Actively participates in at least one AGCMO Committee, Council, or Board.
Utilizes the appropriate AGCMO logo in advertising, letterhead, website, bid submittals/requests, or signage.
When asked why he chooses other AGCMO members as subcontractors, suppliers, and partners, Steve Peterson replied, "We have found that members of the AGCMO tend to have shared values, such as safety, integrity, teamwork, and accountability. We know what to expect when we work with them on our projects. Why go anywhere else?"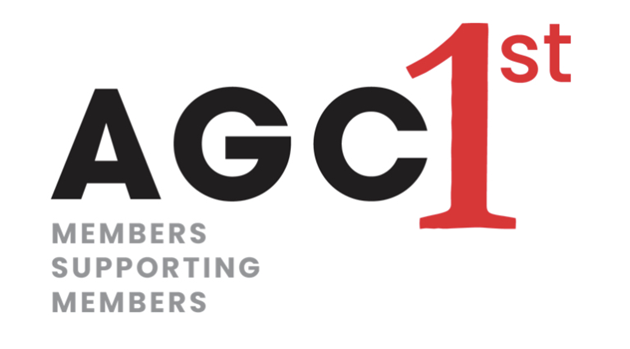 You may learn more about the AGC 1st Campaign and the AGC of Missouri by visiting www.agcmo.org.