The Safety Award for Excellence (SAFE) is a distinguished award presented by the Arkansas Asphalt Pavement Association (AAPA) to recognize safety leaders in the asphalt industry.
In 2019, the newly established AAPA Safety Committee developed a program to highlight safety within our industry. The "Bring Them Home S.A.F.E." program was an avenue for a company to be recognized for its commitment to safety. The Committee decided on two awards:
Producer Award – applicants must be a material producer, operate a quarry or an asphalt plant.
Work Zone Award —applicants must work in active roadway construction zones.
Delta Asphalt of Arkansas, Inc. earned the inaugural Producer Award. This award is a testament to the safety culture and safety activities of the employees working at our HMA Plants, including operations and quality control personnel.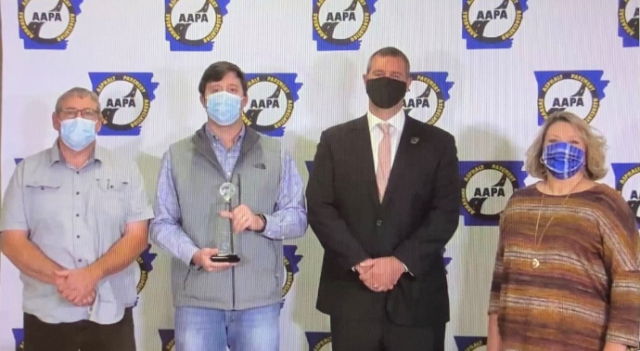 Left to right: Artie Cousins, Plants and Quarry Manager for Delta; Justin Counce, EHS Coordinator for Delta; Lance Lamberth, Chairman of AAPA (Atlas Asphalt, Inc.); and Cindy Williams, Chairwoman of Safety Committee for AAPA (Time Striping, Inc.)
Justin Counce, Environmental Health and Safety Coordinator for the South Region had this to say: "This is an award we should all be very proud of. We were up against major players within our industry. Congratulations Plants and QC!"
The award, which was for the year 2019, was presented during the AAPA Quality Conference in January 2021. It would have been presented at the 2020 AAPA Annual Convention, but that event was canceled due to the COVID-19 pandemic.
The award application process consists of two phases. In order to qualify for the award, a company must have zero work-related fatalities during the recorded year. It also needs a Total Recordable Incident Rate (TRIR) and Days Away From Work, Days of Restricted Work Activity, and/or Days of Jobs Transfer (DART) rating below the industry average.
If the initial application is accepted, a SAFE Award Entry Binder and instructions will be provided to the company for completion. The company then must submit the binder to the AAPA for review and scoring. An external panel evaluates the completed applications. The 2020 panel consisted of university professors, retired OSHA/MSHA inspectors, Department of Labor (DOL) officials, and other people familiar with our industry; however, no contractor, AAPA member, or AAPA staff were included.
The evaluation is scored based on the following categories:
Safety Record 30 points
Safety Program 15 points
Narrative 45 points
References 10 points
Supplemental Material 5 points
Photographs 5 points
In the Narrative section of the application, Justin wrote: "Safety is a core value of Delta Companies of AR (Delta). Delta recognizes that in order to achieve an incident free workplace, all levels of employees must be actively involved and participating in sharing ideas to create a healthy safety culture." This recognition certainly supports that statement.
We wish to recognize and thank the supervisors and crews at our HMA Plants for earning the SAFE Award.
Andy West, Paragould HMA Plant
Don Brumley, Luxora HMA Plant
Chris Allen, Searcy HMA Plant
Clint Clark, Clinton HMA Plant
Cody Cooper, Assistant Quality Control Manager
Zach Green, President of the Delta Companies Inc., had a short, simple, and heartfelt response upon hearing the news: "Fantastic. What a great achievement. I'm very proud of all of your efforts."
This represents another step in our journey to safety culture excellence. Our mission is "Goal Zero" and we will continuously strive to reach it.
AAPA understands the commitments necessary to implement and maintain outstanding health and safety programs. The SAFE Award Program not only provides companies the opportunity to share their successes, but also helps others improve their processes.
You may learn more about the SAFE Award and the Arkansas Asphalt Pavement Association by visiting www.arasphalt.com.