Delta Asphalt of Arkansas, Inc. earned the 2017 State Winner Quality Asphalt Paving Award in the Two Lane Highway – ADT Less than 2000 category for the rehabilitation of Hwy 285 in Bono, Arkansas. The award was accepted by Daryl Masingale and Cody Cooper at today's Arkansas Asphalt Pavement Association 2018 Annual Conference held in Hot Springs, Arkansas.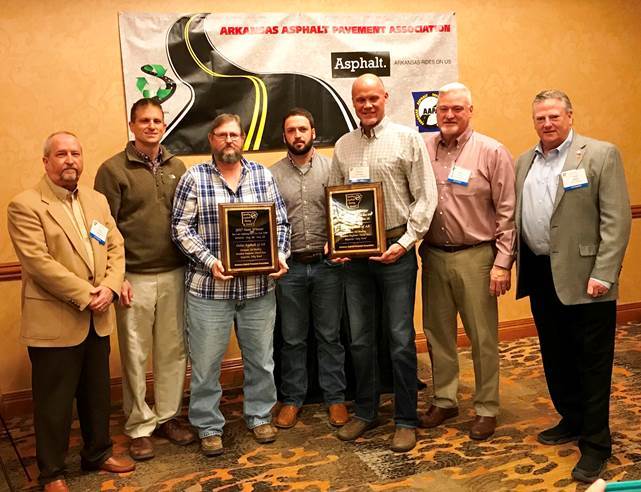 The purpose of the project was to rehabilitate and realign 4.82 miles of Hwy 285 between Bono and Martinville in Faulkner County.
Significant items of work included 30,500 tons of HMA paving, 149,000 cubic yards of unclassified excavation, 92,000 cubic yards of compacted embankment, and 73,000 tons of aggregate base.
The work began in April 2016 and was considered substantially complete on September 22, 2017, using 182 of the allotted 185 working days.
The project management team included Regional Manager John Bennett; Construction Manager Brad Marotti; Estimator/Project Administrator Josh Hiett; earthwork foremen Jim Chastain and David Chastain; paving foremen Wade Murray, Shane Moody, and Sid Binkley; and Traffic Control Supervisor Billy Grandon. The project also included the manufacturing component of our company managed by Plants Manager Artie Cousins, Clinton Quarry foreman Bruce Blair, and Clinton HMA Plant foreman Clint Clark. And, of course, our Quality Control department  – Quality Control Manager Daryl Masingale, Assistant QC Manager Cody Cooper, and Field Technician Chad Brown.
We were notified of the selection of the Bono project for this honor earlier this year, but today the team received the plaque. Pretty impressive!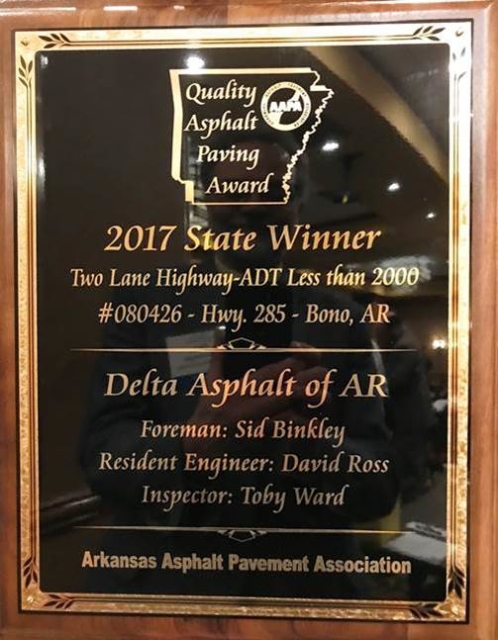 Congratulations to all involved!