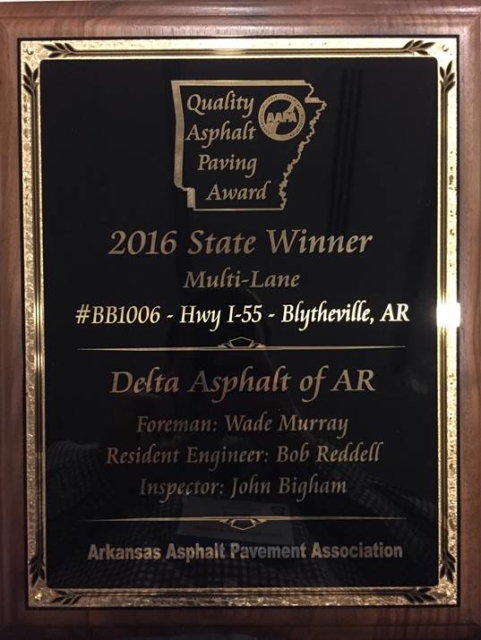 Congratulations to our Arkansas Construction Team for earning the 2016 State Winner Quality Asphalt Paving Award sponsored by the Arkansas Asphalt Pavement Association.
The award winning project was the rehabilitation of I-55 from North of Highway 18 to the Missouri State Line.
The purpose of the project was to reconstruct 4.2 miles of the I-55 main lanes and raise one overpass bridge structure east of Blytheville in Mississippi County, Arkansas.
The project included 24,000 cubic yards of excavation and embankment; 107,000 square yards of rubblization of existing pcc pavement, 102,000 tons of asphalt base mix; 48,000 tons of asphalt binder mix; 59,000 tons pf asphalt surface mix: guardrail; wire rope safety fence; raising/modification of an overpass bridge; erosion control items; and pavement markings.
The project asphalt mixes were governed by Percent Within Limits (PWL) specifications. Very challenging for approximately 209,000 tons of asphalt mix.
Delta personnel responsible for our performance on the project include the following:
Project Manager – Brad Marotti
Paving Foremen – Wade Murray & Shane Moody
Earthwork Foremen – Jim and David Chastain
Quality Control Manager – Daryl Masinagle
Quality Control Technicians – Cody Cooper and Derrin Wineland
Trucking Coordinator – Shane Kelley
Luxora Plant

Day Shift Foreman & Plant Manager – Don Brumley
Night Shift Foreman – Tim Eash
Groundman – Bruce Robinson & Les Morgan
Loader & Plant Operator – Levi Wallace

Plus all the operators, laborers, drivers, and subcontractors involved in the construction of this project!
(I apologize if I have missed anyone in the list above.)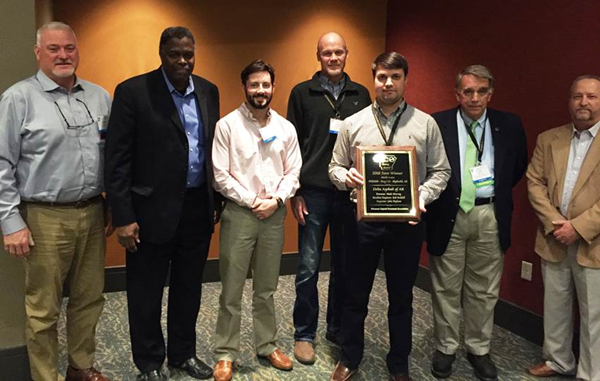 Congratulations to Regional Manager John Bennett and his team for a job well done and a well done job!