The National Stone, Sand & Gravel Association (NSSGA) "Safety Excellence Awards" recognize producer member operations maintaining a safe workplace, evidenced by its safety performance over a consecutive period in terms of Mine Safety and Health Administration (MSHA) reportable injuries.
The Safety Excellence Program was created in 1987 to promote safe working conditions and practices and to annually recognize individual operations with exemplary safety records among NSSGA member companies. Safety Excellence Awards recognize individual operations with the lowest reportable injury rate in their size category. Data on which the award is based is provided by MSHA.
"The safety of the men and women of the aggregates industry has always been our members highest priority, and now more than ever, we understand that it requires the unyielding commitment of every employee to maintain a safe work environment," said NSSGA President & CEO Michael Johnson. "Our Safety Excellence Awards … highlight those aggregate producers who have an elite level safety record. We celebrate their dedication to the safest workplace possible, because we believe everyone should go home at night."
The Delta Companies Inc. had six aggregates locations recognized with the Safety Excellence Certificate of Achievement in 2020:
Clinton Quarry in Clinton, Arkansas
Southern Illinois Stone Quarry (SIS Quarry) in Goreville, Illinois
Dexter Sand & Gravel in Dexter, Missouri
Heartland Materials Quarry in Jackson, Missouri
Southeast Missouri Stone Quarry (SEMO Quarry) in Cape Girardeau, Missouri
Williamsville Stone Quarry (Williamsville Quarry) in Poplar Bluff, Missouri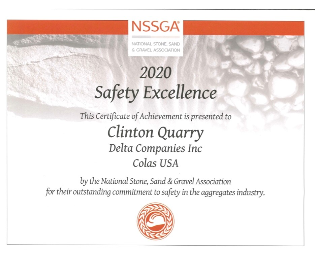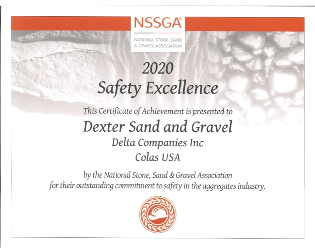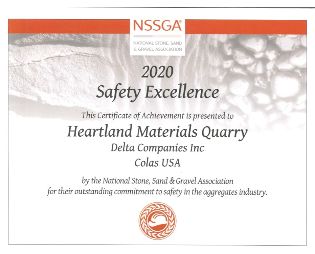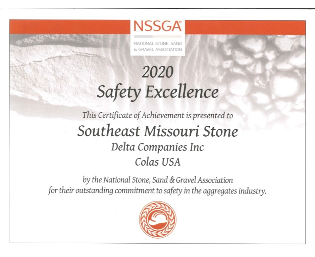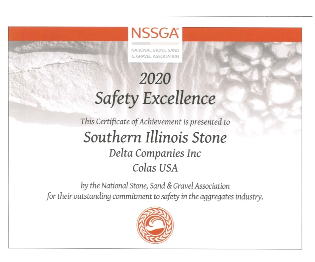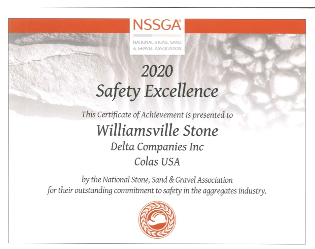 Bruce Menke, Environmental, Health, and Safety Manager for Delta, said, "The NSSGA understands the value of miner safety. It created a safety excellence program in 1987 to promote safe working conditions and to recognize operations with solid safety records. The men and women at Delta's six aggregate operations certainly understand the value of safety. They don't practice safety to win awards. They do it to go home safely to their families every day. The NSSGA Safety Excellence Certificate is a culmination of those efforts. Well done!"
NSSGA is the leading advocate for the aggregates industry. Its members – stone, sand and gravel producers and the equipment manufacturers and service providers who support them – produce the essential raw materials found in homes, buildings, roads, bridges and public works projects, NSSGA represents more than 90 percent of the crushed stone and 70 percent of the sand and gravel produced annually in the United States. Learn more at www.nssga.org.