The National Stone, Sand & Gravel Association (NSSGA) "Awards of Excellence for Environment" recognize producer member operations actively contributing to the maintenance of the environment in and around their operations as evidenced by a corporate commitment to the exemplary use of environmental controls and systems.
This award is based, in part, on the extent to which an operation meets and exceeds technical environmental and regulatory requirements. It is not based on aesthetic or beautification criteria.
The Awards of Excellence for Environment program provides national recognition for operations who actively demonstrate a commitment to the exemplary use of environmental controls and systems. The award levels are Platinum, Gold, Silver, and Bronze.
The Delta Companies Inc. had six aggregates locations recognized with the Bronze level honor in 2020:
Clinton Quarry in Clinton, Arkansas
Dexter Sand & Gravel in Dexter, Missouri
Heartland Materials Quarry in Jackson, Missouri
Southeast Missouri Stone Quarry (SEMO Quarry) in Cape Girardeau, Missouri
Southern Illinois Stone Quarry (SIS Quarry) in Goreville, Illinois
Williamsville Stone Quarry (Williamsville Quarry) in Poplar Bluff, Missouri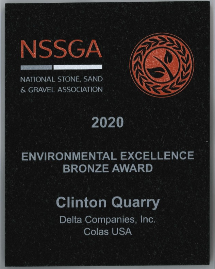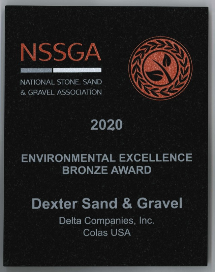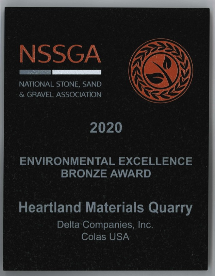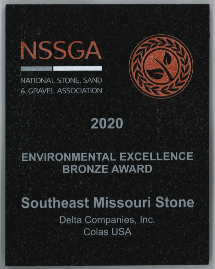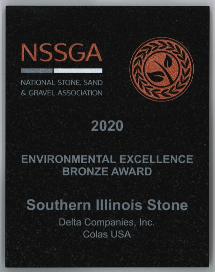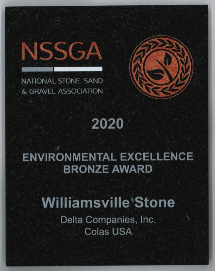 Bruce Menke, Environmental, Health, and Safety Manager for Delta, said, "The NSSGA Award of Excellence for Environment is a prestigious award given to those companies that are best in class. The requirements are stringent, and the standards are high. The men and women working at our facilities are committed to producing quality products while protecting the environment. Each of Delta's six aggregates operations is very deserving of the award and I'm extremely proud of them!"
We also wish to recognize one of our sister companies, IA Construction Corporation (one of the Barrett Industries), for being presented with the Bronze award for two locations:
Garland Aggregates in Garland, Pennsylvania
Lippert Aggregates in Allegany, New York
NSSGA is the leading advocate for the aggregates industry. Its members – stone, sand and gravel producers and the equipment manufacturers and service providers who support them – produce the essential raw materials found in homes, buildings, roads, bridges and public works projects, NSSGA represents more than 90 percent of the crushed stone and 70 percent of the sand and gravel produced annually in the United States. Learn more at www.nssga.org.