Highway 67B and Highway 36 (Kensett and Searcy) White County, Arkansas
Delta Asphalt of Arkansas Inc. (a subsidiary of the Delta Companies Inc.) won a nearly $3.6 million project to mill and resurface with asphalt pavement approximately 7.6 miles of highway in White County, Arkansas.
The project awarded by the Arkansas Department of Transportation (ArDOT) focused on segments of Highway 67B and 36, stretching through the retail business section of Searcy to nearby Kensett. At times, it seemed all 26,000 inhabitants of the two cities were driving through the project! Construction Supervisor Sid Binkley constantly reminded his crews to "keep their head on a swivel and pay consistent attention to the traffic." Communication between the crews and the public was key to a safe and orderly traffic flow.
This project, consisting of removal and disposal items, aggregate base course, HMA binder and surface courses, cold milling, HMA patching, maintenance of traffic, pavement marking, and other related items, was performed during nighttime hours. Crews could set up a lane closure no earlier than 7:00 p.m. and remove it no later than 7:00 a.m. the next morning, or face a $5,000 per hour per lane closure penalty. Thus, coordination of multiple crews and careful time management were essential to avoiding penalties.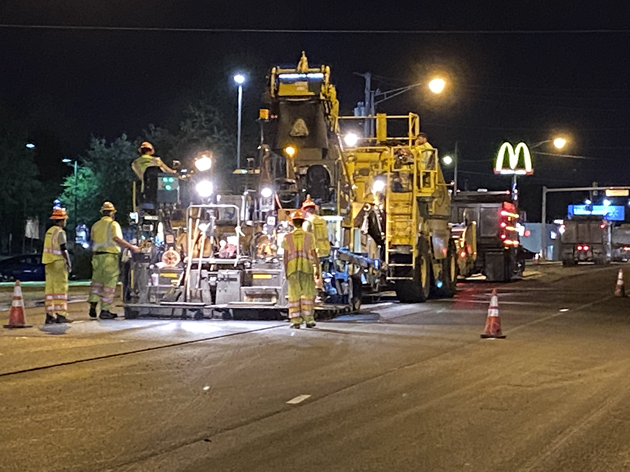 ArDOT established a 55 Working Day contract with a "Flex Start Date" of August 10 and a Completion Date of October 16. To meet these requirements, crews worked several six-shift weeks. Fatigue was a concern, so protocols were established before work began and constantly monitored throughout the duration of the project.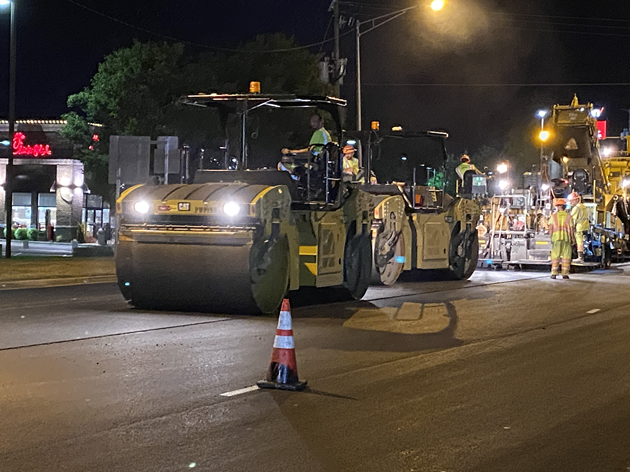 Major items of work included milling the existing asphalt pavement (181, 400 square yards), which generated nearly 25,000 tons of Recycled Asphalt Pavement (RAP) utilized in this and future projects; placing 2,600 tons of HMA binder course; and placing 38,000 tons of HMA surface course. Asphalt mixtures were produced by Delta's HMA Plant located in Searcy, supervised by Clint Clark and Chris Allen. Quality Control duties were performed by Jeff Goss at the Plant and Chad Brown in the field. Brian Kelso served as Delta's Project Manager.
Asphalt paving courses varied in depth, depending on location, from 2 inches to 4 inches to 1 inch to 3 inches, which caused some sleepless days (remember, they are working nights) for Supervisor Binkley regarding smoothness and density. Milling and paving crews had to overcome challenges of wheel ruts, failed areas, concrete patches, extended concrete curb aprons, brick pavements, and water valves. And don't forget traffic. Don't ever forget the traffic! But never fear, Sid, his crews, and the subcontractors were up to all those challenges and more!
Subcontractors utilized on the project included The Miller Group (a sister company located in Atlanta, Georgia) to perform the milling operation; Traf-Mark Industries, LLC for the striping; and Time Striping Inc. for installation of new signs. Jackson's Construction replaced curb, sidewalk, and concrete ditch pavement, and Construction Management & Maintenance installed new loop wiring for traffic signals.